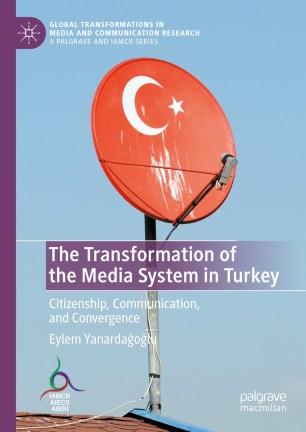 By Eylem Yanardağoğlu, this is the 16th title in the Palgrave/IAMCR book series Global Transformations in Media and Communication Research.
The book focuses on the changes that the media system in Turkey went through since early 2000s. Its perspective considers sociology of citizenship and focuses on processes such as Europeanization, de-Europeanization, authoritarianism on the one hand and implications of digitalization and convergence on the other. It tracks the transformation of the media system through the trajectories of normative, participative, and entrepreneurial citizenship practices. The final sections focus on aspects of convergence evidenced in bottom-up and participatory forms of digital media such as the birth of citizen journalism and fact-checkers after the demise of conventional mainstream media in recent years.
This book:
Contributes to local and global understandings of the recent political and cultural transformation in Turkey
Takes into account a previously neglected aspect of the classification of the media systems: the digital media
Situates the transformation of the media system in Turkey in wider contexts
Eylem Yanardağoğlu is an associate professor and head of the New Media department at Kadir Has University in Istanbul.
Discount for IAMCR members
IAMCR members are entitled to a special 35% discount on all titles in the series. If you are a member of IAMCR, email GlobalTransformations@iamcr.org with "global transformations discount" as the subject of your message for details on how to get your discount.
Go to the publisher's website to purchase a title in the series.
Contents
Introduction
Nation, Media and Communicative Space
Politics, Media and Citizenship in Modern Turkey
Europeanisation Reforms and Early AKP Era
New Media and Politics of Communicative Citizenship
Restructuring of the Media System and New Media Convergence
Conclusion
The above text is from the publisher's description of the book.
Title: The Transformation of the Media System in Turkey: Citizenship, Communication, and Convergence
Author: Eylem Yanardağoğlu
Published: 2021
Pages: 220