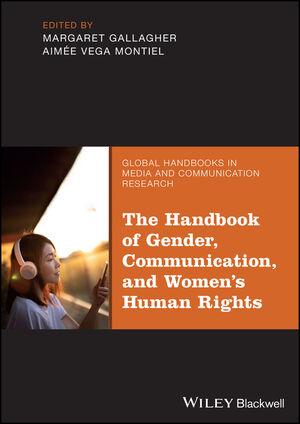 Edited by Margaret Gallagher and Aimee Vega Montiel
We are pleased to announce the release of the ninth title in the Global Handbooks in Media and Communication Research series co-published by Wiley and IAMCR.
A timely feminist intervention on gender, communication, and women's human rights
The Handbook on Gender, Communication, and Women's Human Rights engages contemporary debates on women's rights, democracy, and neoliberalism through the lens of feminist communication scholarship. The first major collection of its kind published in the COVID-19 era, this unique volume frames a wide range of issues relevant to the gender and communication agenda within a human rights framework.
An international panel of feminist academics and activists examines how media, information, and communication systems contribute to enabling, ignoring, questioning, or denying women's human and communication rights. Divided into four parts, the Handbook covers governance and policy, systems and institutions, advocacy and activism, and content, rights, and freedoms. Throughout the text, the contributors demonstrate the need for strong feminist critiques of exclusionary power structures, highlight new opportunities and challenges in promoting change, illustrate both the risks and rewards associated with digital communication, and much more.
Offers a state-of-the-art exploration of the intersection between gender, communication, and women's rights
Addresses both core and emerging topics in feminist media scholarship and research
Discusses the vital role of communication systems and processes in women's struggles to claim and exercise their rights
Analyzes how the COVID-19 pandemic has exacerbated structures of inequality and intensified the spread of disinformation
Explores feminist-based concepts and approaches that could enrich communication policy at all levels
Part of the Global Handbooks in Media and Communication Research series, TheHandbook of Gender, Communication, and Women's Human Rights is essential reading for advanced undergraduate and graduate students in media studies, communication studies, cultural studies, journalism, feminist studies, gender studies, global studies, and human rights programs at institutions around the world. It is also an invaluable resource for academics, researchers, policymakers, and civil society and human rights activists.
This title is in the series Global Handbooks in Media and Communications, co-published by IAMCR and Wiley-Blackwell. It is the first collection dedicated to a region in the IAMCR/Wiley series.
Purchase the book and access a discount for IAMCR members
To purchase, visit Wiley-Blackwell's page for this book.
IAMCR members are eligible for a 30% discount on this or any other title in the series (valid until 31 December 2025). To access the discount send an email to GlobalHandbooks@iamcr.org.
About the editors
Margaret Gallagher is an independent researcher who has published widely on gender, media, and communication rights.
Aimee Vega Montiel is a researcher at the Center for Interdisciplinary Research in Sciences and Humanities at the National Autonomous University of Mexico (UNAM). She is the Chair of IAMCR's Task Force on the Global Alliance for Media and Gender (GAMAG).
Title: The Handbook of Gender, Communication, and Women's Human Rights
Editors: Margaret Gallagher and Aimee Vega Montiel
Published: 2023
Imprint: Wiley-Blackwell
Pages: 432
ISBN: 978-1-119-80068-2