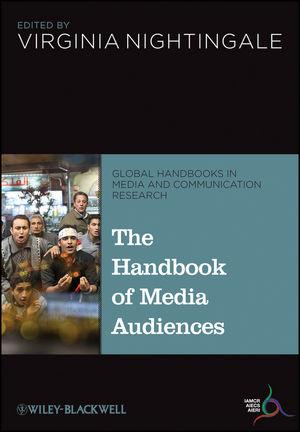 Edited by Virginia Nightingale, 2011
This handbook offers a comprehensive overview of the complexity and diversity of audience studies in the advent of digital media.
"Admirably comprehensive and with original contributions from leading scholars in the field, this is a volume that everyone should have on their shelf."
- Graham Murdock, Loughborough University
Details the study of audiences and how it is changing in relation to digital media
Recognizes and appreciates valuable traditional approaches and identifies how they can be applied to, and evolve with, the changing media world
Offers diverse perspectives from which being an audience, theorizing audiences, researching audiences, and doing audience research are approached today
Argues that the field works best by identifying particular 'audience problems' and applying the best theories and research methods available to solving them
Includes contributions from some of the most outstanding international scholars in the field
This title is in the series Global Handbooks in Media and Communications, co-published by IAMCR and Wiley-Blackwell.
IAMCR members are eligible for a 30% discount on this or any other title in the series (valid until 31 December 2025). To access the discount send an email to GlobalHandbooks@iamcr.org.
Wiley-Blackwell page for this book.
Title: The Handbook of Media Audiences
Editors: Virginia Nightingale
Published: 2011
Imprint: Wiley-Blackwell
Pages: 600 pp
ISBN: 978-1-118-72139-1