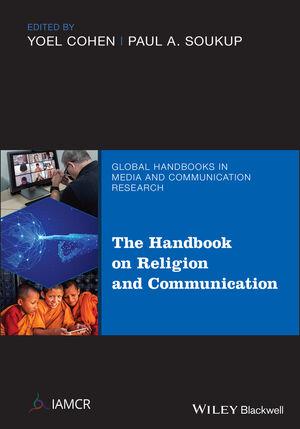 The Handbook of Religion and Communication
Edited by Yoel Cohen and Paul A. Soukup
We are pleased to announce the release of the seventh title in the Global Handbooks in Media and Communication Research series co-published by Wiley and IAMCR.
The Handbook of Religion and Communication presents a detailed investigation of the complex interaction between media and religion, offering diverse perspectives on how both traditional and new media sources continue to impact religious belief and practice across multiple faiths around the globe. Contributions from leading international scholars address key themes such as the changing role of religious authority in the digital age, the role of media in cultural shifts away from religious institutions, and the ways modern technologies have transformed how religion is communicated and portrayed.
Divided into five parts, the Handbook opens with a state-of-the-art overview of the subject's intellectual landscape, introducing the historical background, theoretical foundations, and major academic approaches to communication, media, and religion. Subsequent sections focus on institutional and functional perspectives, theological and cultural approaches, and new approaches in digital technologies. The essays provide insight into a wide range of topics, including religious use of media, religious identity, audience gratification, religious broadcasting, religious content in entertainment, films and religion, news reporting about religion, race and gender, the sex-religion matrix, religious crisis communication, public relations and advertising, televangelism, pastoral ministry, death and the media, online religion, future directions in religious communication, and more.
The Handbook of Religion and Communication is an essential resource for scholars, academic researchers, practical theologians, seminarians, mass communication researchers, and undergraduate and graduate students taking courses on media and religion.
This book:
Explores the increasing role of media in creating religious identity and communicating religious experience
Discusses the development and evolution of the communication practices of various religious bodies
Covers all major media sources including radio, television, film, press, digital online content, and social media platforms
Presents key empirical research, real-world case studies, and illustrative examples throughout
Encompasses a variety of perspectives, including individual and institutional actors, academic and theoretical areas, and different forms of communication media
Explores media and religion in Judeo-Christian traditions, Islam, Buddhism, Hinduism, religions of Africa, Atheism, and others
This title is in the series Global Handbooks in Media and Communications, co-published by IAMCR and Wiley-Blackwell.
Purchase the book and access a discount for IAMCR members
To purchase, visit Wiley-Blackwell's page for this book.
IAMCR members are eligible for a 30% discount on this or any other title in the series (valid until 31 December 2025). To access the discount send an email to GlobalHandbooks@iamcr.org.
About the editors
Yoel Cohen is Professor Emeritus of Mass Communication, and former Chair of The School of Communication, at Ariel University, Israel. He is vice-chair of IAMCR's Religion and Communication working group.
Paul A. Soukup, S.J., is Professor and past Head of the Department of Communication at Santa Clara University.
Title: The Handbook of Religion and Communication
Editors: Yoel Cohen and Paul A. Soukup
Published: 2023
Imprint: Wiley-Blackwell
Pages: 500
ISBN: 978-1-119-67158-9