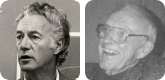 IAMCR announced the winners of the Schiller and Smythe Awards at its 2011 Annual Conference in Istanbul.
The Herbert I Schiller award is named after a communication scholar whose critical studies of international communication and of the political economy of information substantially opened up intellectual debate within the U.S. academy and beyond, beginning in the late 1960s. Dallas Smythe's critical studies of the political economy of media have been foundational in that branch of study. Both of them were long-time activists withn IAMCR.
Smythe and Schiller were professional colleagues for a while at the University of Illinois, Urbana-Champaign, and lifetime friends.
The 2011 Schiller Award Committee was composed of Helena Sousa (Universidade de Minho, Portugal), who served as its chair, Carolyn Byerly (Howard University, Washington DC), and Keyan Tomaselli (University of KwaZulu/Natal, South Africa). The 2011 winner is Chloris Qiaolei Jiang, doctoral student at the Chinese University of Hong Kong, for the paper 'Techno-Nationalism and Creative Industries: The development of the Chinese online game industry in a globalized economy'.
The 2011 Smythe Award Committee was composed of John Sinclair (University of Melbourne, Australia), who served as its chair, Paula Chakravartty (University of Massachusetts-Amherst) and Rodrigo Gomez Garcia (Universidad Autonoma Metropolitana, Mexico City). The joint winners are Fredrik Stiernstedt and Peter Jacobsson of Södertörn University, Sweden, for their paper 'Space and Clouds of Information: Data centre discourse and the meaning of durability'.