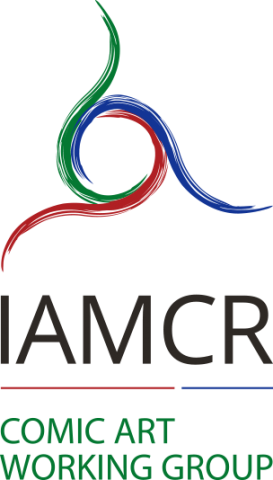 The call for papers below is an extraordinary reopening of the original Beijing call for papers for authors who did not submit to the Beijing conference but want their work considered for Tampere.
---
See Spanish and French versions below
The Comic Art Working Group (COA) of the International Association for Media and Communication Research (IAMCR)invites the submission of abstracts of papers and proposals for panels for the 2020 Congress of the Association, which will be held from 12 to 16 July, 2020 at Tampere University in Tampere. Submissions for this extraordinary reopening will be accepted from Monday 17 February, 2020 until Monday 2 March 2020 at 23:59 UTC.
Related themes
All aspects of comics and cartooning from around the world are open for discussion as well as critical approaches from all disciplinary perspectives. Academic and independent scholars are all equally welcome to collaborate. We also welcome submissions from early career researchers and veteran scholars alike. We encourage themes related to the general conference theme, Reimagining the Digital Future: Building Inclusiveness, Respect and Reciprocity as described in the IAMCR 2020 general call for proposals.
Guidelines for Abstracts
Abstracts should be between 300 and 500 words in length.

All abstracts must be submitted at https://iamcr2020.exordo.com. Abstracts sent by email will not be accepted.

COA accepts abstracts submitted in any of the official languages of the IAMCR: English, Spanish and French.
It is expected that authors will submit only one (1) abstract. However, under no circumstances should there be more than two (2) abstracts bearing the name of the same author, either individually or as part of any group of authors. Please note also that the same abstract or another version with minor variations in title or content must not be submitted to more than one section or working group. Any such submissions will be deemed to be in breach of the conference guidelines and will be rejected. Authors submitting them risk being removed entirely from the conference programme.
The Comic Art Working Group also welcomes abstracts for video presentations, as part of an initiative to allow for remote participation. If you wish to submit an abstract for a video presentation, please carefully read the call for video presentations, and follow the procedures explained there.
Criteria for Evaluation
Submitted abstracts will generally be evaluated on the basis of:
theoretical contribution
​methods
quality of writing
literature review
relevance of the submission to the work of the Section or Working Group
originality and/or significance
The deadline to submit abstracts is 23:59 GMT on 2 March 2020.
See important dates and deadlines to keep in mind
The Comic Art Working Group
The Comic Art Working Group (COA) is one of the oldest of IAMCR's working groups, having been founded by John A. Lent at the 1984 conference in Prague. From its launch, it has been dedicated to finding a niche within mass communication scholarship for comic art, which it has succeeded in doing, and in a spirit of serious and pleasurable study and cooperation. Professor John A. Lent is also responsible for the International Journal of Comic Art (IJOCA), one of most prestigious journals in the field.
The COA welcomes suggestions and ideas of extra activities within the group for future meetings. Beginning with the Leicester 2016 conference, the group announced the launching of the annual best paper award. In order to be considered, papers must be thoroughly researched, written in or translated into excellent English and follow closely the International Journal of Comic Art style (for style guidelines, please check ijoca.com or the IJOCA website).
In order to keep the dialogue flowing, we have also created a page for the group in Facebook.
Feel free to join us! https://www.facebook.com/groups/588358041302782/?fref=ts
Contact
For any questions, please contact us:
Vice-Chair: Dr. Jorge Salvador Anaya Martínez (jorgeanayamartinez [at] hotmail.com)
---
Convocatoria para el envío de propuestas
La convocatoria de trabajos a continuación es una reapertura extraordinaria de la convocatoria original de Beijing para autores que no presentaron resumenes para la conferencia de Beijing pero que quieren que su trabajo sea considerado para Tampere.
El grupo de trabajo sobre Arte del Cómic de la Asociación Internacional de Estudios en Comunicación Social (AIECS) invita a registrar propuestas de resúmenes para artículos y propuestas de paneles para la conferencia 2020 de la AIECS, que se llevará a cabo los días 12 al 16 de julio Tampere, Finlandia. La fecha límite para enviar resúmenes es a las 23:59 GMT del 2 de marzo de 2020.
Temas de interés para el grupo
Todos los aspectos de los cómics y las caricaturas de todo el mundo están abiertos a discusión, así como enfoques críticos desde todas las perspectivas disciplinarias. Académicos e académicos independientes son igualmente bienvenidos a colaborar. También damos la bienvenida a las presentaciones de los investigadores de carrera temprana y los estudiosos veteranos por igual.
Directrices para resúmenes
Los resúmenes deben tener entre 300 y 500 palabras de extensión.

Los resumenes deben ser enviados a través del sitio https://iamcr2020.exordo.com. Resumenes enviados vía email no serán aceptados.

El grupo del Arte del Cómic acepta resúmenes enviados en cualquiera de los idiomas oficiales de la AIECS: inglés, español y francés.
Se espera que cada persona envíe un solo (1) resumen. Sin embargo, bajo ninguna circunstancia debe haber más de dos (2) resúmenes que lleven el nombre del mismo autor, ya sea individualmente o como parte un grupo de autores.
Tenga en cuenta además que un mismo resumen u otra versión con variaciones menores en el título o contenido no puede presentarse a más de una sección o grupo de trabajo. Tales presentaciones se considerarán como una infracción de las directrices del congreso y serán rechazadas. Los autores de estas propuestas corren el riesgo de ser removidos por completo del programa del congreso.
El grupo del Arte del Cómic también aceptará resúmenes para presentaciones de video, como parte de una iniciativa para permitir la participación remota. Si desea enviar un resumen para una presentación de video, por favor lea detenidamente la "call for video presentations" (convocatoria de presentaciones de video) y siga el procedimiento que allí se explica.
Evaluación de los resúmenes
En términos generales, en la evaluación de los resúmenes presentados se tendrá en cuenta:
aporte teórico
métodos
calidad de la redacción
revisión bibliográfica
pertinencia de la propuesta para el trabajo de la sección o grupo de trabajo
originalidad y/o importancia
Fechas importantes y plazos a tener en cuenta
Contacto
Para cualquier duda, contáctanos:
Vice-Chair: Dr. Jorge Salvador Anaya Martínez (jorgeanayamartinez [at] hotmail.com)
El Comic Art Working Group en Facebook: https://www.facebook.com/groups/588358041302782/
---
Appel à propositions
L'appel à communications ci-dessous est une réouverture extraordinaire de l'appel à communications original de Beijing pour les auteurs qui ne se sont pas soumis à la conférence de Beijing mais souhaitent que leur travail soit examiné pour Tampere.
Le Groupe de travail sur l'art comique (Comic Art Working Group) de l'Association internationale pour la recherche sur les médias et la communication (IAMCR) invite les présentations de résumés pour les documents et les propositions de panneaux pour la conférence IAMCR 2020 qui aura lieu du 12 au 16 juillet à la Université de Tampere. La date limite pour soumettre des résumés est 23:59 UTC le 2 mars 2020.
Thèmes associés
Tous les aspects de la bande dessinée et de la bande dessinée du monde entier sont ouverts à la discussion ainsi que des approches critiques de toutes les perspectives disciplinaires. Les universitaires et les chercheurs indépendants sont également les bienvenus pour collaborer. Nous accueillons également les candidatures de chercheurs en début de carrière et de chercheurs vétérans.
Lignes directrices pour les résumés
Les résumés doivent avoir entre 300 et 500 mots.

Toutes les présentations abstraites doivent être faites via https://iamcr2020.exordo.com. Il n'y a pas de soumission par courrier électronique de résumés.

Pour le Comic Art Working Group, les résumés peuvent être soumis dans l'une des langues officielles de l'IAMCR: l´Anglais, Espagnol et Français
On s'attend à ce que, pour la plupart, un seul (1) résumé soit soumis par personne. Cependant, en aucun cas, il ne faut plus de deux (2) résumés portant le nom du même auteur, individuellement ou dans le cadre d'un groupe d'auteurs.
Veuillez noter également que le même résumé ou une autre version avec des variations mineures de titre ou de contenu ne doit pas être soumis à plus d'une section ou d'un groupe de travail. Ces soumissions seront réputées avoir enfreint les lignes directrices de la conférence et seront rejetées par le système OCS, par le chef compétent ou par le réviseur de programme de la conférence. Les auteurs qui les soumettent risquent d'être complètement retirés du programme de la conférence.
Critères d'évaluation
Les résumés soumis seront généralement évalués sur la base de:
contribution théorique
méthodes
qualité de l'écriture
Examen de la littérature
pertinence de la soumission aux travaux de la Section ou du Groupe de travail
originalité et / ou importance
La date limite pour soumettre des résumés est 23:59 UTC le 2 mars 2020.
Contact
Pour toute question concernant, contactez-nous:
Vice-Chair: Dr. Jorge Salvador Anaya Martínez (jorgeanayamartinez [at] hotmail.com)
Notre page Facebook: https://www.facebook.com/groups/588358041302782/