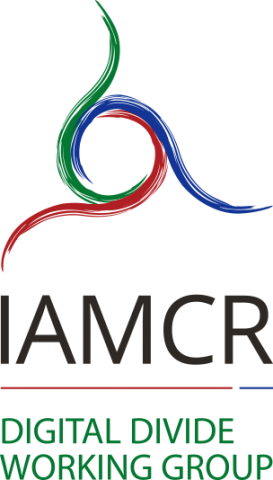 The call for papers below is an extraordinary reopening of the original Beijing call for papers for authors who did not submit to the Beijing conference but want their work considered for Tampere.
---
The Digital Divide Working Group of the International Association for Media and Communication Research (IAMCR) invites the submission of abstracts of papers and proposals for panels for the 2020 Congress of the Association, which will be held from 12 to 16 July, 2020 at Tampere University in Tampere. Submissions for this extraordinary reopening will be accepted from Monday 17 February, 2020 until Monday 2 March 2020 at 23:59 UTC.
IAMCR conferences address many diverse topics defined by our 33 thematic sections and working groups. We also propose a single central theme to be explored throughout the conference with the aim of generating and exploring multiple perspectives in plenary sessions and in some of the sessions of the sections and working groups.
See the IAMCR 2020 general call for proposals.
The overarching conference theme in 2020 is 'Reimagining the Digital Future: Building Inclusiveness, Respect and Reciprocity'. This year's conference aims to re-examine the roles and patterns of global communication while including local voices, seeking critical reflections on the relationship between them, and exploring feasible agendas for a shared digital future based on inclusiveness, respect and reciprocity.
Within this context, the Digital Divide Working Group is particularly interested in exploring the role of modern communication technologies in safeguarding equality on different levels – access, literacy, use, opportunities, professional and personal development and growth, etc. At this year's conference, we encourage discussion around different types and forms of inequalities in various national contexts, with a special attention being given to comparisons and contrasts between Global North and Global South regions of the world. We also welcome presentations on inclusiveness as a vital issue for democratic societies in regard to social, economic, ethnic, religious, linguistic, cultural, geographical, educational, gender, age and other dimensions, and encourage debates around digital divide and inclusiveness in today's world. Furthermore, we welcome papers discussing the role ICTs and AI are playing in the construction of the digital future and contributing to the equality across various groups in the society, as well as across various nations and countries of the world.
Our Working Group welcomes new theoretical approaches and empirical findings resulted from the research of digital inequality as a multi-dimensional phenomenon influencing various aspects of social life all across the world. In this respect we are also interested in stimulating fruitful discussions about co-relation of such factors as age, gender, income, education, location and technical skills to use ICTs, as well as the co-relation of media literacy and social inclusion in the modern social and political life.
For the 2020 annual conference we invite paper proposals on any of the following key topics:
Digital divide as a challenge for a shared digital future;
Digital inequalities in various national contexts: experiences and lessons from the Global North and Global South regions;
Inclusiveness as a manifestation of a democratic society in the digital age;
Access/use/opportunities divides and ways to overcome them;
The influence of ICTs and AI upon digital and social divides;
Digital inclusion as a factor contributing to sustainable development of nations and individuals;
The role of digital divide in communication across cultures, ethnicities and regions;
Correlation between digital skills / digital literacy and the way human rights are exercised by individuals and on a broader social level
Languages
Digital Divide Working Group accepts abstract submissions and presentations in all three official languages of the association (English, Spanish and French). Whenever possible, we encourage people making presentations in French or Spanish to consider preparing their slides in English.
Guidelines for abstracts
Abstracts should be between 300 and 500 words. All abstracts must be submitted at https://iamcr2020.exordo.com. Abstracts sent by email will not be accepted.
It is expected that authors will submit only one (1) abstract. However, under no circumstances should there be more than two (2) abstracts bearing the name of the same author, either individually or as part of any group of authors. Please note also that the same abstract or another version with minor variations in title or content must not be submitted to more than one section or working group. Any such submissions will be deemed to be in breach of the conference guidelines and will be rejected. Authors submitting them risk being removed entirely from the conference programme.
The deadline to submit abstracts is 23:59 GMT on 2 March 2020.
See important dates and deadlines to keep in mind
For further information, please consult the conference website, or contact the Local Organizing Committee by email: tampere2020 [at] iamcr.org or the heads of the Digital Divide working group:
Chair: Olga Smirnova, smirnovaorama [at] gmail.com
Vice-Chair: Anna Gladkova, gladkova_a [at] list.ru
Vice-Chair: Massimo Ragnedda, massimo.ragnedda [at] northumbria.ac.uk
Join DID Working Group in social media: https://www.facebook.com/groups/795651687209460/?fref=ts