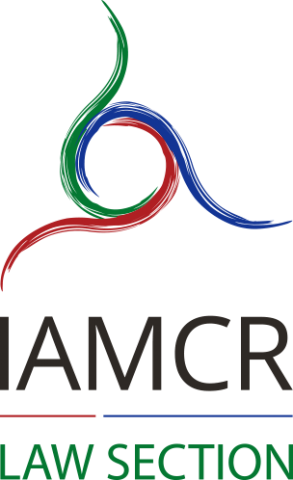 The call for papers below is an extraordinary reopening of the original Beijing call for papers for authors who did not submit to the Beijing conference but want their work considered for Tampere.
---
The Law Section of the International Association for Media and Communication Research (IAMCR) invites the submission of abstracts of papers and proposals for panels for the 2020 Congress of the Association, which will be held from 12 to 16 July, 2020 at Tampere University in Tampere. Submissions for this extraordinary reopening will be accepted from Monday 17 February, 2020 until Monday 2 March 2020 at 23:59 UTC.
IAMCR conferences address many diverse topics defined by our 33 thematic sections and working groups. We also propose a single central theme to be explored throughout the conference with the aim of generating and exploring multiple perspectives in plenary sessions and in some of the sessions of the sections and working groups. The general conference theme for 2020 is "Reimagining the Digital Future: Building Inclusiveness, Respect and Reciprocity".
See the IAMCR 2020 general call for proposals.
Following the general theme of the conference, the Law section´s theme will center around "Information Disfunctions: Constitutional and Legal responses to disinformation, political polarization, media concentration and other challenges to communication rights."
We invite participations that can contribute works that center around this general topic and explore what the law can and cannot do to intervene in order to solve or ameliorate problems related to information flows, the current state of journalism, and the guarantee and protection of communication rights and fundamental rights online.
While we especially encourage submissions related to the above-mentioned topic, not all submissions have to address it or even the conference´s central theme. The Law section welcomes submissions on any on the topics described below and any other panels or proposals, whether related to the conference theme or not, in any area of communication law and policy, from any theoretical perspective and using any methodological approach that may be of interest to the Section.
Other topics the section seeks to explore are:
Human rights in the context of networks and technology;
The need for a redefinition of communication rights to better respond to the challenges of today;
Algorithmic governance, including the governance of algorithms, and governance by algorithms; the use of algorithms in democratic decision-making; the role of algorithms in spreading and combatting disinformation; the use of algorithms in political and legal decision-making; algorithmic discrimination;
The role of social networks in social and political mobilization and the role and influence of disinformation and polarization in such mobilization.
The regulation of big data profiling, facial recognition and affective computing;
The regulation of targeted advertising;
Election law, including the regulation of bots and social media campaigning;
Artificial intelligence and intellectual property, including copyright; and
The right to be forgotten, privacy, and data protection law.
Languages
The law section accepts abstracts in the three official languages of IAMCR: English, French, and Spanish. Presentations can be made in any of these three languages.
Submission guidelines
Abstracts should be between 300 and 500 words. All abstracts must be submitted at https://iamcr2020.exordo.com. Abstracts sent by email will not be accepted.
It is expected that authors will submit only one (1) abstract. However, under no circumstances should there be more than two (2) abstracts bearing the name of the same author, either individually or as part of any group of authors. No more than one (1) abstract can be submitted to any section or working group. Please note also that the same abstract or another version with minor variations in title or content must not be submitted to more than one section or working group. Any such submissions will be deemed to be in breach of the conference guidelines and will be rejected. Authors submitting them risk being removed entirely from the conference programme.
The deadline to submit abstracts is 23:59 GMT on 2 March 2020.
See important dates and deadlines to keep in mind
Criteria for Evaluation
Submitted abstracts will generally be evaluated on the basis of:
Theoretical contribution
Methodology
Quality of writing
Literature review
Relevance of the proposal to the work of the Section
Originality/Significance
We look forward to your submissions!
Law Section
Co-Chair: Loreto Corredoira (loreto [at] ucm.es)
Co-Chair: Rodrigo Cetina Presuel (rcetinapresuel [at] law.harvard.edu)
Vice Chair: Fernando Gutiérrez Atala (Fgutierrez@ucsc.cFgutierrez [at] ucsc.cl (l))
Vice Chair: Lucas Logan (loganp [at] uhd.edu)