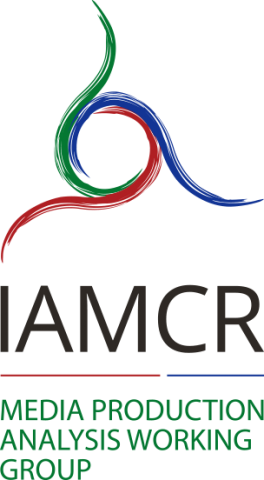 The call for papers below is an extraordinary reopening of the original Beijing call for papers for authors who did not submit to the Beijing conference but want their work considered for Tampere.
---
The Media Production Analysis Working Group of the International Association for Media and Communication Research (IAMCR) invites the submission of abstracts of papers and proposals for panels for the 2020 Congress of the Association, which will be held from 12 to 16 July, 2020 at Tampere University in Tampere. Submissions for this extraordinary reopening will be accepted from Monday 17 February, 2020 until Monday 2 March 2020 at 23:59 UTC.
IAMCR conferences address many diverse topics defined by our 33 thematic sections and working groups. We also propose a single central theme to be explored throughout the conference with the aim of generating and exploring multiple perspectives in plenary sessions and in some of the sessions of the sections and working groups. The general conference theme for 2020 is "Reimagining the Digital Future: Building Inclusiveness, Respect and Reciprocity".
See the IAMCR 2020 general call for proposals.
The Media Production Analysis Working Group provides a venue for researchers of media production. The Working Group focuses on different professional roles, norms, and values, technologies, organizational contexts and genres to grasp the internal and external dynamics of media production processes.
We invite empirical studies of media production as well as methodological reflections and analyses of the processes of media production research. These media might include but are not limited to film, television, radio, web, VR and AR productions, and the whole range of genres and media forms available today, including journalism, fiction, non-fiction, culture, and entertainment. We also welcome studies of media production for non-media domains, including but not limited to education, government, health, and tourism. In addition, we welcome studies on a micro, meso, and macro level as well as studies of the professional use of social media.
The group is open to all theoretical inspirations from, for instance, media studies, journalism studies, cultural studies, sociology, anthropology, and management studies.
We explicitly welcome work on methodological aspects of media production research: production ethnography in general, challenges and strategies of access and publication, challenges and strategies of interdisciplinary research, and the theoretical grounding of methods. As our focus is on media production and the challenges of researching it, papers based entirely or mainly on the analysis of media texts, content or reception will not be accepted.
Papers addressing the 2020 conference theme "Reimagining the Digital Future: Building Inclusiveness, Respect and Reciprocity" are most welcome. We intend to arrange a special session dedicated to accommodate papers dealing with issues related to this theme from the perspective of media production.
In addition, we are organising a joint session with the International Communication section: "International Media Production"
Legacy media have a strong focus on national audiences and, specifically in the case of PSBs, are closely connected to national audiences and identities. At the same time, media have a long tradition of cross border broadcast (Radio Free Europe, BBC World, China Central Television and China Radio International) and trade (MIPCOM). The principal aim of streaming platforms such as Amazon, Netflix and HBO in Europe / America, Tik Tok in China and Showmax in South Africa, is to reach audiences at a global scale.
How do show runners, journalists, screenwriters, filmmakers and producers consider their international audiences? What are the implications of producing in and with different cultures, languages, working conditions, and funding models? How do global streaming companies like Netflix facilitate the production of local 'originals'? What are the long-term foreseeable implications of this tendency, if any?
The International Communication section (INC) and the Media Production Analysis working group (MPA) would like to address these and other questions concerning media production across borders in a joint session at the IAMCR 2020 conference. We invite submissions dealing with any kind of media focusing on any territory. Proposals should explicitly address questions of production and have an international orientation. We also welcome proposals that deal with methodological issues.
Individual submissions for this joint session should be submitted to the MPA Working Group, including MPA/INC in the title field.
Languages
Abstracts in each of IAMCR's official languages (English, French and Spanish) are welcome for submission. Presentations can be made in each of these languages, but as most members of our group are English speaking, we expect presentation slides and/or handouts to be in English. We also expect the abstract to be provided in English after acceptance.
Submission guidelines
Abstracts should be between 300 and 500 words. All abstracts must be submitted at https://iamcr2020.exordo.com. Abstracts sent by email will not be accepted.
It is expected that authors will submit only one (1) abstract. However, under no circumstances should there be more than two (2) abstracts bearing the name of the same author, either individually or as part of any group of authors. No more than one (1) abstract can be submitted to any section or working group. Please note also that the same abstract or another version with minor variations in title or content must not be submitted to more than one section or working group. Any such submissions will be deemed to be in breach of the conference guidelines and will be rejected. Authors submitting them risk being removed entirely from the conference programme.
The deadline to submit abstracts is 23:59 GMT on 2 March 2020.
See important dates and deadlines to keep in mind
For further information, please consult the conference website, or contact the Local Organizing Committee by email: tampere2020 [at] iamcr.org or email the co-chairs: Willemien Sanders (w.sanders [at] uu.nl) and Anna Zoellner (a.zoellner [at] leeds.ac.uk).