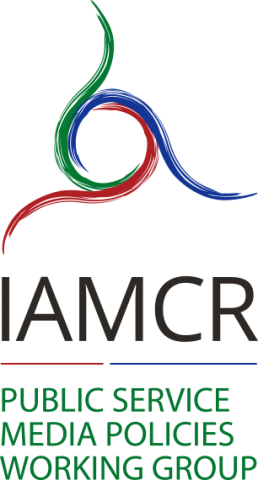 The call for papers below is an extraordinary reopening of the original Beijing call for papers for authors who did not submit to the Beijing conference but want their work considered for Tampere.
---
The Public Service Media Policies (PSM) Working Group of the International Association for Media and Communication Research (IAMCR) invites the submission of abstracts of papers and proposals for panels for the 2020 Congress of the Association, which will be held from 12 to 16 July, 2020 at Tampere University in Tampere. Submissions for this extraordinary reopening will be accepted from Monday 17 February, 2020 until Monday 2 March 2020 at 23:59 UTC.
IAMCR conferences address many diverse topics defined by our 33 thematic sections and working groups. We also propose a single central theme to be explored throughout the conference with the aim of generating and exploring multiple perspectives in plenary sessions and in some of the sessions of the sections and working groups. The general conference theme for 2020 is "Reimagining the Digital Future: Building Inclusiveness, Respect and Reciprocity".
See the IAMCR 2020 general call for proposals.
The Public Service Media Policies Working Group is open for panel proposals, workshop sessions and research paper proposals to address, in keeping with the overarching theme of the conference, core issues around public service media (PSM) in the context of building an inclusive, respectable and reciprocial digital future. We welcome both empirical studies and contributions that are normative in character or aiming at conceptual/methodological clarification and development amid the impact of the latest advances in communication technology on public service media, society, culture and human rights. Proposals can be about single national/organisational case-studies or be comparative/cross-national in scope.
We are equally interested in papers addressing contemporary policy, regulatory and technology issues on public service media (PSM) (e.g., research on PSM audience, content analysis of PSM output, economic analysis of PSM performance; PSM and digital innovation).
Historical studies that can contribute, through the lens of the past, to a critical understanding of contemporary issues facing PSM are also welcome.
Finally, we welcome papers from around the world and we strongly encourage submissions from researchers based in countries outside the heartlands of PSM.
Possible topics include, but are not limited to:
Normative analyses about the value and role of PSM aimd the latest technology changes;
PSM's role in promoting citizens' cultural entitlements and communication-related rights
Intercultural Communication and PSM
Comparative PSM Studies
Digital Divide and PSM
Online Platform, Market Monopoly and PSM
PSM and Technological governance;
AI, Big Data and PSM
Fakes News, Disinformation and Role of PSM
Privacy, Public Interests, and Journalisic practices of PSM
Emerging models of substainbility and its relations with PSM;
PSM's evolving relationships with commercial rivals, suppliers and Internet technology players (e.g., social networking websites, online video streaming services);
Funding issues facing PSM (budget cuts, reform of funding systems, PSM involvement in commercial activities);
PSM, innovation and audience engagement (personalization, mobility, on-demand and social sharing);
PSM's strategy, activities and performance in relation to specific areas of content provision (e.g., news and journalism; children's; dramas and comedy; religious programming).
Languages
The official languages at IAMRC are English, Spanish and French and hence this working group will programme sessions in three languages as needed. However, all the abstracts should be written in English in order to facilitate the review process.
Whenever possible, we encourage people making presentations in French or Spanish to consider preparing their slides in English.
We are looking for volunteer translators/interpreters for abstracts, sessions and papers. If you can contribute and help translate some papers or key points into Spanish, French or English, please contact us (see details of Co-Chairs below).
Submission of Abstracts
All abstracts must be submitted at https://iamcr2020.exordo.com. Abstracts sent by email will not be accepted.
It is expected that each person will submit only one (1) abstract. However, under no circumstances should there be more than two (2) abstracts bearing the name of the same author, either individually or as part of any group of authors. The same abstract (or version of it with minor variations) must not be submitted to more than one Section or Working Group. Such submissions will be deemed to be in breach of the conference guidelines and rejected. Authors submitting them risk being removed entirely from the conference programme.
Deadlines and Important Dates
The deadline to submit abstracts is 23:59 GMT on 2 March 2020.
See important dates and deadlines to keep in mind
Criteria for Evaluation
Submitted abstracts will generally be evaluated on the basis of:
theoretical contribution
methods
quality of writing
literature review
relevance of the submission to the work of the Section or Working Group
originality and/or significance
For further information, please consult the conference website, or contact the Local Organizing Committee by email: tampere2020 [at] iamcr.org or the heads of the the Public Service Media Policies Working Group:
Co-Chairs:
Alessandro D'Arma
University of Westminster
A.Darma02 [at] westminster.ac.uk (A.Darma02@)westminster.ac.uk
Yik Chan Chin
Xi'an Jiaotong-Liverpool University
yik-chan.chin [at] xjtlu.edu.cn