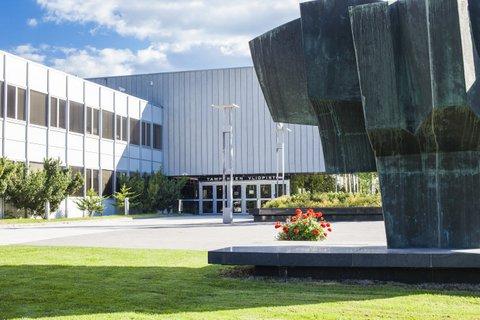 The main host of the Conference is Tampere University, which has its main building across the road from the Tampere Hall. It was built in 1960, when the College of Social Sciences, founded in 1925, was moved from Helsinki to Tampere as a measure of decentralizing higher education in Finland. A separate Technical University was established in Tampere in the early 1970s. The two universities were merged in 2019, with the Polytechnic Tampere as the third party, to become the second largest university in Finland, TAU. For a short video on TAU, see here.
Of the seven faculties, the Conference is hosted by the Faculty of Information Technology and Communication, ITC, and its Communication Sciences Unit. This division of the ITC Faculty includes the Bachelor's, Master's and Doctoral programmes in journalism, media, cultural studies, game studies, speech communication, library and information science as well as theatre arts. Journalism was one of the few professional paths founded at the College of Social Sciences in 1925; it was the first academic journalism degree programme not only in Finland but in the Nordic countries as a whole. Library and information studies, established at the College in the 1950s, was likewise a pioneer in its field. In the 1960s the College was transformed into a fully-fledged university, which in 1966 established among others a professorship in computer science – the first in the Nordic countries.
As the oldest and largest centre for media and communication research in Finland, Tampere University is closely associated with the rest of the field. There are broad degree programmes in the universities of Helsinki and Jyväskylä and focused programmes in Aalto University in Helsinki and at the universities of Vaasa, Oulu and Rovaniemi. The Finnish Association for Media and Communication Studies organizes national conventions and publishes a quarterly journal in Finnish entitled Media & viestintä (online, with English abstracts of peer reviewed articles).
Tampere University is hosting a number of international conferences in 2020, see here. However, some of them are being cancelled due to the corona virus Covid-19.