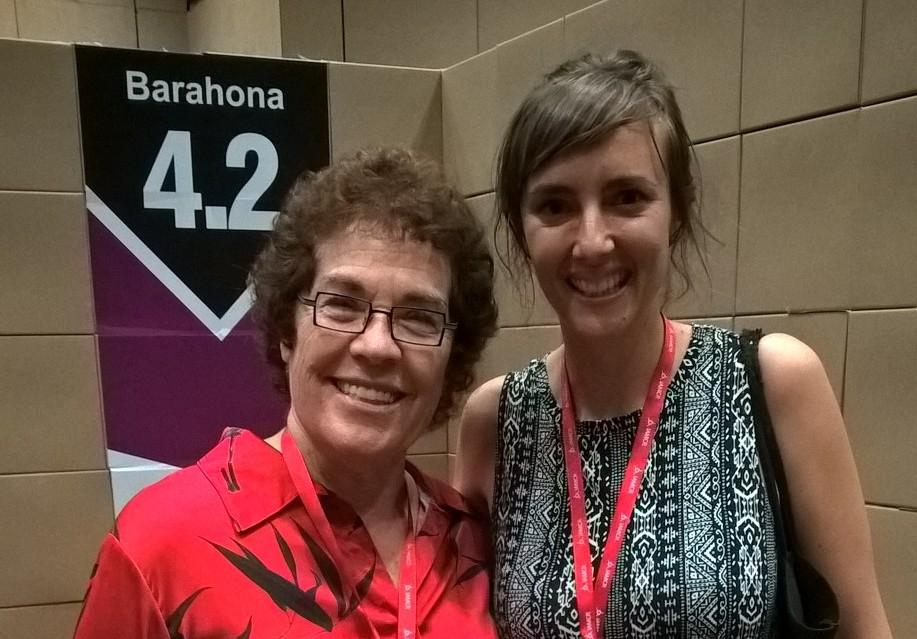 Willemien Calitz is a PhD student at the University of Cape Town in South Africa currently researching China-Africa and the media. She was awarded an IAMCR travel grant to present two papers: "Influences on South African and Chinese journalists covering China's human rights and sustainable development record" to the Emerging Scholars Network and "From Rhino Poaching to Mining: The Coverage of China's Human Rights and Sustainability Record in South African Media" to the International Communication Section. She wrote us with her reflections on IAMCR 2017.
IAMCR 2017 in Cartagena, Colombia was the first International Association of Media and Communication Research conference that I'd attended. I was stunned by the diversity in nationality, ethnicity, race and backgrounds of the conference attendees, and similarly astonished by the wide variety of topics currently being researched in the communication field. To me personally, both of these aspects were refreshing, as many academic conferences I've attended lacked views and theoretical input from beyond the United States and United Kingdom research or academic institutions, or have tended to focus mostly on media democratization or the use of new media in Western-based social movements. Research on social movements beyond the Western context has easily been simplified or decontextualized, which is why IAMCR 2017's theme of transformation provided such insightful perspectives. The interconnectivity and similarities, yet stark differences, between what nations or groups experience regarding social movements was highlighted to me like never before.
As an emerging scholar who aims to conduct inter-disciplinary research, the panels on sustainability were incredibly useful. I felt at home discussing ideas around climate change communication, and found affirmation that there is a need for more robust research concerning issues of sustainability. My own study focuses partly on the representation of China's sustainable development, and I felt like the discussions and debates in the panels I attended contributed to the approach I want to take with my study. I learned a lot about the differences between coverage of issues such as climate change vs environmental issues and in developed vs developing nations. The consideration of sustainable development being a political, yet technical, yet ideological issue, had me thinking a lot about the frameworks both China and South Africa work within. Even though China is categorized as a developing nation, the similarities to power distribution by the developed world across Africa is becoming clearer, and yet more complex. South Africa's role in that power distribution is also becoming more complex, and accordingly, coverage of and journalistic engagement with China.
Furthermore, I gained insight from concepts such as blurring the lines between journalism and activism when it comes to the coverage of climate change. Again, I could relate this to my research since many of my interviewees are already in that position. Yet, the particular study focused mainly on journalists' own decision or agency in blurring the distinction between activism and journalism, whereas my study tries to factor in the other influences that contribute to this type of coverage, such as news values, editors, funding and sources. Generally, I found the issue of journalistic education and training to come up quite strongly in the panels I attended, and the question of how to train journalists in changing media environments, local contexts and with a regard for sustainability really stuck with me.
I also found that a lot of research is currently being done on diaspora communities, indicating the significance of globalization and our interconnectivity, and the role that different types of media can play to facilitate that. That interested me from the perspective of what kind of news media Chinese diaspora use across the world – and how that shapes their own views on China's sustainable development and human rights reputation.
Unfortunately, I found few panels containing research on the China-Africa engagement, or on the theory of soft power, and I would have loved to have more perspectives and exposure to theoretical frameworks regarding this topic. I know that one or two presenters couldn't make it and that this topic was part of their focus. I also missed a strong presence of sexuality/queer studies in the developing world, which I'd have loved to compare with the South African context.
I'd hoped for more critical questions, input, or recommendations on my own presentations, but I understand that BRICS or China-Africa and the media is a growing field of research and that not many researchers at the conference focused on the theory of soft power. That in itself was interesting though and something I can discuss with my supervisor upon my return. Similarly, I felt that I was not in the best suitable panel for my Emerging Scholars Network presentation – that is partly my own fault because I submitted an abstract focusing on both human rights and sustainable development but due to time constraints I managed to present mostly on the sustainable development aspect. However, I had contacted ESN a couple of weeks beforehand suggesting that I might fit better with another panel, and I had hoped they could have moved me. Nonetheless, the respondent on my panel was incredibly insightful and kind and gave both me as an individual and us as an entire group helpful feedback. So much so, that I wish we could have had one on one sessions with experts in our field to give us this kind of feedback on our research. I realize however that would be asking a lot from academics in general, and might be hard to facilitate. It is a pity that conferences always have to work within time constraints! ESN is a really wonderful part of IAMCR and the fact that the organization even has such a section, prioritizing young researchers, says a lot about what IAMCR aims to do.
For the next IAMCR I would suggest perhaps having more ESN workshops with either other scholars or academics on issues such as methodology, and analysis, and perhaps even future career moves. I would also like to suggest another method of facilitating engagement between scholars and academics – the Fiesta was not necessarily the ideal space for that and often there is not much time between panels to interact. Also, culturally, from my South African experience for example, it is not common practice to interact effortlessly with established academics, in my opinion there is a hierarchy at some universities or within some spaces. Thus, walking up to a renowned scholar is challenging, particularly at social events like a Fiesta. So perhaps we can find a way fun way around that in Eugene – it's a beautiful place, we could do a large afternoon picnic with a marquee tent and have people with similar research interests gather together in groups or sections. I suggest an afternoon event, simply because I know a lot of researchers try to get early nights in – whether for reasons of jetlag or needing to prepare for the following day's presentations etc.
I met an incredibly inspiring amount of individuals, and most of our ideas were better formulated in one on one conversations – like the ones I had with my former master's supervisor Christopher Chavez, and one with Lisa Mclaughlin, that I had met at my hotel. It was also significant to meet with Janet Wasko and Julianne Newton again, interact with my supervisor Herman Wasserman, and finally, to meet three strong female researchers on the journey back to South Africa. We managed to discuss our challenges at our individual universities and I hope we will continue to be a source of support for each other. I would not have had this opportunity of connection if it wasn't for the travel grant I received from IAMCR, for which I am eternally grateful.
Finally, the conference was incredibly well organized, in terms of language and infrastructure barriers, I enjoyed the creative solutions such as the boxes that formed the Salas in the Barahones. I hope to attend again, and I hope to build new and stronger connections with scholars every year. Particularly considering the fact that I am currently at the analysis phase of my PhD which is a challenging sphere to move through, and I find that conferences such as these give me purpose, solidarity, and also just generally motivation to move forward.
Willemien Calitz, PhD candidate, University of Cape Town, South Africa
---
IAMCR travel grants are funded with a percentage of all IAMCR membership payments plus the voluntary contributions of IAMCR members and supporters.
Please consider making a donation to the travel grant fund. It's a great way to encourage emerging scholars and new perspectives within IAMCR.
| | |
| --- | --- |
| Donate in Euros | Donate in USD |
| | |