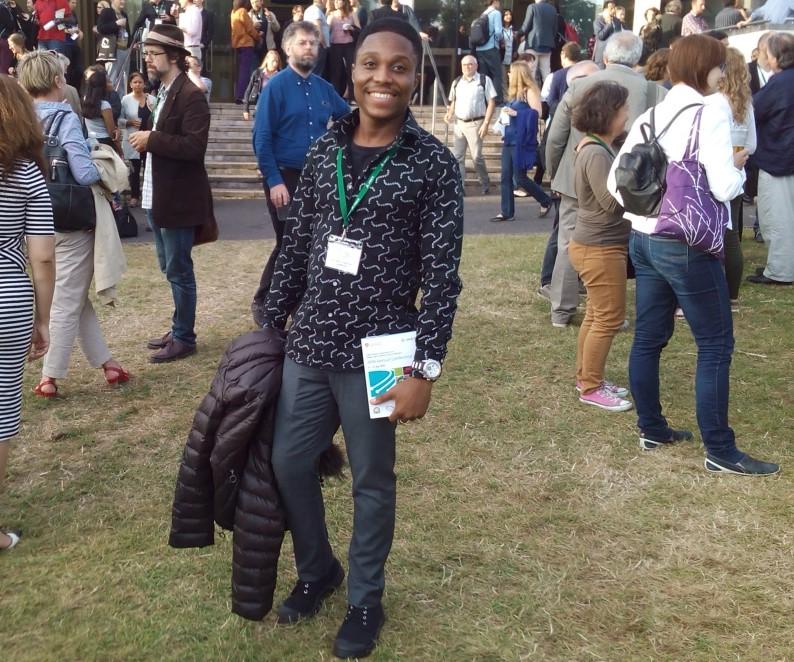 Chikezie Uzuegbunam was at Nnamdi Azikiwe University in Nigeria when he applied for a travel grant to attend IAMCR 2016 in Leicester but has since relocated to complete a PhD at the University of Cape Town in South Africa. Leicester was his second IAMCR conference and in this article he talks about what IAMCR and the travel grants have meant to him and his career. He presented in the Emerging Scholars Section.
My first IAMCR conference was in 2014. Coincidentally, it was the first time I would have an opportunity to embark on a foreign academic experience. As passionate as I was to make a mark as a young scholar and as desirous as I was to gain global visibility, IAMCR came through for me. Not only was my paper accepted, I won a travel grant award and this greatly enabled me to attend and participate in the Hyderabad conference. This will forever remain a significant turning-point in my academic career. With this first door opened by IAMCR, I got other opportunities afterwards to travel to three more countries between 2014 and 2015.
When the CfP for Leicester 2016 conference went out, I was determined to use the opportunity to reconnect with an academic association that has become my academic family. Having missed the Montreal conference in 2015, I knew I could not afford to miss Leicester, otherwise my academic life may suffer a disconnect of sorts. A family is a place of warmth, of reinforcement, of strength, of reassurance, of belonging and shared and collective beautiful memories. For me, I had missed this home for all the above reasons and more. As God may have it, my paper was accepted in the Emerging Scholars Network section and I knew I had to apply for the travel grant. In the part of the world where I come from, funding remains a challenge for academic growth. When I was named as one of the 27 scholars from middle and low income countries to be awarded travel grants for this year, I was over the moon. It felt very good to know that I had this privilege, especially when the competition was stiff and when it was my second time.
By the time the conference drew near, I was relocating to South Africa where I had just taken up PhD admission at the Centre for Film and Media, University of Cape Town. The IAMCR grant couldn't have come at a better time than this time when I was facing huge financial commitments: cost of relocation, starting a PhD abroad with personal funds and planning an international conference. In all candour, that I made it to Leicester was a miracle. With PhD start-ups and encountering some hitches with visa, the IAMCR Secretariat, the LOC at University of Leicester and the supportive Head of Department and supervisor at my new department in Cape Town, ensured that the impediments were overcome.
Just as I expected, the 2016 IAMCR conference in Leicester was all that I hoped for and more. Not only did I reconnect with friends I met in Hyderabad in 2014, I made new ones. I recall with fondness that Hyderabad 2014 brought with it lots of amazing things such as an IAMCR mentor who helped me with three international publications, a fully funded summer school with LSE, and a PhD admission in Africa's number one university. I can only imagine what the new connections, reconnections and harvest of ideas which were the hallmarks of the conference in Leicester will bring to bear on my career going forward. IAMCR has become an academic home that whenever I find myself in it, good things happen to me, then and afterwards. For this, I am ever grateful and I will ever remain a proud member.