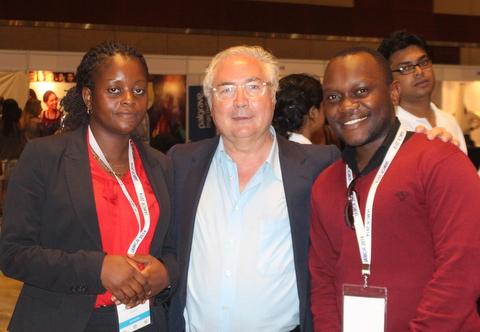 Elastus Mambwe, an entry level lecturer at the Department of Mass Communication at the University of Zambia, received a travel grant to present two papers at IAMCR's conference in Hyderabad. When Entertainment Education meets Social Media: A case study of Love Games Zambia, in the Emerging Scholars Network and Celebrity or Just popular? Identifying the Zambian celebrity and their display of economic and political power in the Popular Culture Working Group. He wrote about the experience.
This was my second IAMCR conference after having made my debut in Durban, two years ago. I must say I was excited about the idea of meeting some the wonderful people I had met in 2012, the prospect of making new friends and engaging in discussions (sometimes debates) with researchers and media in a cordial and suited environment. I was even more excited about the presentations that I knew would be everything from thrilling and engaging to stimulating and provoking at the same time. I was looking forward to the experience.
And so it happened, from the start of the conference right to the last session, all my expectations were met. It was one awesome experience. I met old friends, made new ones and had great discussions with academics and researchers young and old, from different backgrounds and parts of the world. And that was just on the first day.
The conference sessions were all well organized and coordinated. As an emerging scholar, I learned a lot from my contemporaries and from seasoned scholars as well. It's always a delight to meet the names you read in text books, names too numerous to mention. I was introduced to new ideas, new perspectives and paradigms. My mind was opened up in ways that can only be the doing an IAMCR conference. Other than the sessions in the Emerging Scholars Network, which I must say were all very interesting and educative, I found a new home in the Popular Culture Working Group.
The entire period of the conference was awesome, and being in incredible country that India is, made it all the more exciting. Its rich cultural diversity and its wonderful people made the stay very worthwhile. I must add that the food was fantastic and amazing.
IAMCR 2014 was more than just a conference. It was an experience, an unforgettable one. And this is what IAMCR Conferences have come to mean to me, and for a number of people, I'm guessing. It an experience for scholars, academics and researchers, whether emerging, emerged or seasoned, as well for students who come together and engage in intellectual and cultural discussion and exchanges that are meant to take media and communication research to the next level and make it stay relevant in this increasingly complex world. I guess it's the reason some people have attended almost all the conferences since IAMCR started. There's something that draws you in and makes you want to keep coming back and I must say, I am hooked.
I am thankful for the opportunity to have attended the conference in Hyderabad. I'm extra appreciative for the travel grant that came at the right time for me and my colleagues from Zambia. Raising funds for research is hard enough for us, and setting aside allocations for conference attendance for staff and students has become much more difficult for institutions such as ours in these very difficult times. It therefore came as a relief when I learnt that I was among the few grant recipients from around the world to assist with travel. It even became easier to obtain leave and much possible to source extra help as the remaining balance was significantly reduced.
I hope IAMCR continues to offer grants to its members and that it increases the type of grants from just being for travel. For example, other members may require aid with accommodation or conference fees. Breaking down the type of aid can help other members access the different types of aid. Though I make this suggestion, I am aware that making these grants available is not an easy task for IAMCR. It is therefore important that more is done to ensure that more income is raised for the organisation and that more funding partners are brought on board to also help increase the amount of conference assistance that can be offered.
I am looking forward to enjoying the IAMCR experience for many more years. I hope more people can come aboard and share in that experience. I can certainly guarantee that the IAMCR experience is life changing. It changed me.
Elastus Mambwe
Zambia
Please consider making a donation to the travel grant fund. It's a great way to encourage emerging scholars and new perspectives within IAMCR.
| | |
| --- | --- |
| Donate in Euros | Donate in USD |
| | |