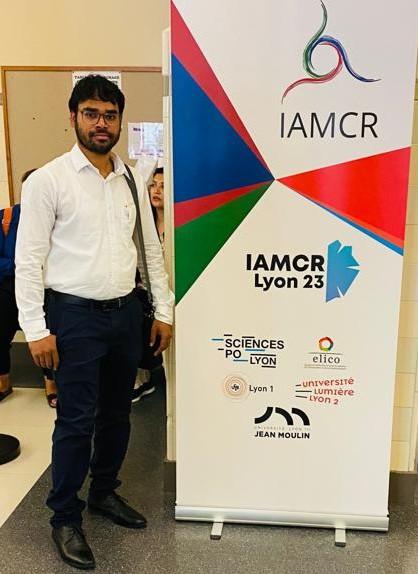 A Journey of Scholarly Connection at IAMCR 2023
Aniruddha Jena, an Assistant Professor at Indian Institute of Management Kashipur, India, was awarded a travel grant to present his paper "Countering the global and consolidating the local: The case of Radio Dhimsa in Koraput, Odisha" to the Community Communication and Alternative Media Section.
In this article he reflects on his experience at IAMCR 2023:
With gratitude, I express profound appreciation to IAMCR for the invaluable opportunity offered to me – a travel grant to attend the 2023 Annual Conference in Lyon, France. This grant has fulfilled a longstanding aspiration nurtured since my days as a Ph.D. student, wherein I dreamt of securing such an honour. Unfortunately, my earlier attempts to participate in IAMCR were impeded by the unprecedented COVID-19 pandemic, which disrupted my plans. Nonetheless, I remained engaged with IAMCR through various virtual means, actively contributing as a panelist, abstract reviewer, and paper presenter in the previous online iterations of the conference. IAMCR, for me, transcends mere academic engagement; it symbolizes a realm of boundless opportunities instrumental in shaping my Ph.D. endeavors and a source of immense personal growth derived from the profound contributions of scholars from diverse regions, particularly in the domain of community and alternative media.
The Community Communication and Alternative Media (CCAM) Section, in particular, stand as a beacon of mentorship and guidance, enriching my journey through its unwavering support. This year, with profound joy and astonishment, I received acceptance for two papers - one in the CCAM section and the other in the Emerging Scholars Network. As an Early Career Researcher starting my academic journey as an Assistant Professor, the Travel Grant provided crucial financial support, enabling meticulous planning for my maiden on-site IAMCR Conference experience.
Having been a member of IAMCR for four years, this conference offered my first in-person experience, and without reservation, I can admit that it is the best conference that I have attended and contributed to thus far. IAMCR, in essence, surpasses the conventional tenets of knowledge sharing and dissemination, transcending into the domain of forging a tight-knit scholarly community while fortifying existing bonds. One aspect that profoundly impressed me during my interactions within IAMCR is the fostering of an inclusive space, tailor-made for early career researchers like myself, leaving us with an overwhelming sense of recognition and value. Rooted in democratic principles and fundamental ideals, IAMCR not only espouses the concepts of diversity, plurality, and multiculturalism but infuses these notions into the very fabric of its practices and activities across all sections and working groups.
Gazing towards the horizon of my academic journey, I wholeheartedly yearn to remain an ardent and active member of the association, as IAMCR's ethos resonates deeply within me. To IAMCR, I extend heartfelt wishes for continued success and unceasing growth, as its multifaceted contributions continue to enrich the lives of scholars and academics worldwide.
Aniruddha Jena
---
IAMCR travel grants are funded with a percentage of all IAMCR membership payments plus the voluntary contributions of IAMCR members and supporters.