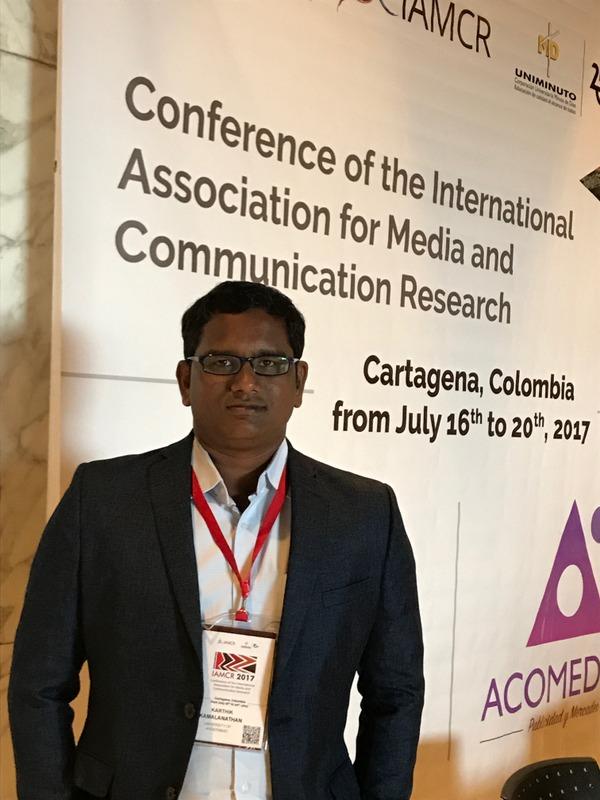 Karthik Kamalanathan, a PhD Student at the University of Hyderabad in India, received a travel grant to attend IAMCR 2017. He presented his paper "The Public Discourse on Child Nutrition: A Case of Augmented Silence in South India" to the Emerging Scholars Network.
IAMCR 2017 was my second IAMCR Conference. The first was in 2014 at Hyderabad, India. I still remember it well and I was fascinated by seeing, listening, interacting with some of the pioneers in the field of communication and media who otherwise I would have never met. That moment drew my interest towards IAMCR.
I am extremely happy and grateful to receive a travel grant that enabled me to participate in IAMCR 2017. I was amazed by the diverse participation from all corners of the globe that eventually enriched my knowledge of contemporary academic issues and my intellectual engagement.
The paper I presented during the conference was my ongoing research and since I presented it in the Emerging Scholars Network I had the privilege to receive valuable and critical comments, especially from the discussant. This has helped me reflect on the work that I am currently involved with.
Beyond academics, I should say it was a unique opportunity for me to travel all the way from India to the "West" particularly South America and indeed conversed not just with scholars but also to a variety of people in Colombia. I will definitely carry a great memory of Cartagena but also of the changes that Colombia is currently undertaking.
I personally thank Bruce Girard, the Executive Director, and Elske van de Fliert, the Treasurer, for their prompt responses that made my journey more comfortable. I hope and wish IAMCR will continue offering travel grants in the future, especially for young scholars coming from low income economies.
Thank you IAMCR!
- Karthik Kamalanathan, PhD Student, University of Hyderabad, India.
---
IAMCR travel grants are funded with a percentage of all IAMCR membership payments plus the voluntary contributions of IAMCR members and supporters.
Please consider making a donation to the travel grant fund. It's a great way to encourage emerging scholars and new perspectives within IAMCR.
| | |
| --- | --- |
| Donate in Euros | Donate in USD |
| | |