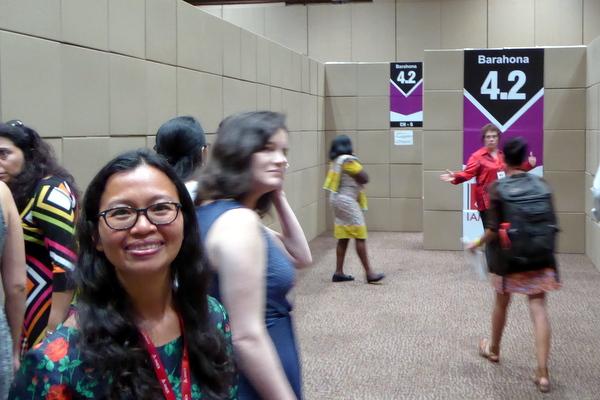 Trang Pham is a resident of Vietnam and PhD candidate at the University of Calgary. She received a travel grant to present her paper, "Vietnam's Broadband Internet - Farmers' Agency vs. Public Discourse: A Case Study to Extend Social Construction of Technology Theories in the South" to the Communication Policy and Technology Section at IAMCR's 2017 conference in Cartagena, Colombia. She also received a travel grant to attend the 2016 conference in Leicester, UK.
I am very glad and grateful to have received IAMCR travel grants for the last two conferences: Leicester 2016 and Cartagena 2017.
In 2016, I came back to the PhD program in communication studies after two years of leave and tried to apply for various conferences and academic activities. Bruce Girard (IAMCR Executive Director) responded to my application emails so promptly and welcomingly. Bruce instructed me to correct my first application step by step and kept me well informed about it. I felt encouraged that a door had opened for me when I was ready to return to my studies.
Professors and peers have given me invaluable feedback and advice about my thesis on social construction of broadband Internet in rural Vietnam. Some comments even made me go back to the drawing board and dig more into the literature to formulate my angles. It is arduous work, for sure, but that is partly why it is called research! I also truly enjoyed interactions, conversations, drinks, and dances during the conferences.
The presentations, particularly in the Communication Policy and Technology Section, provided insights in current trends and research in the field. First-time travelling to Europe and the Americas, where the past two IAMCR conferences were held, also unveiled new horizons and perspectives for my research and my life.
Thank you so much IAMCR!!!
- Trang Pham, resident of Vietnam and PhD candidate in the Department of Communication, Media and Film, University of Calgary.
IAMCR travel grants are funded with a percentage of all IAMCR membership payments plus the voluntary contributions of IAMCR members and supporters.
Please consider making a donation to the travel grant fund. It's a great way to encourage emerging scholars and new perspectives within IAMCR.
| | |
| --- | --- |
| Donate in Euros | Donate in USD |
| | |