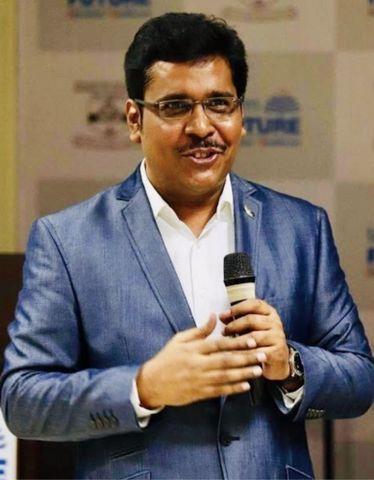 Interview by Mazlum Kemal Dağdelen
Dr Uma Shankar Pandey is an Associate Professor and the Head of the Department of Journalism and Mass Communication at Surendranath College for Women in Kolkata, India, and he is a PhD supervisor. He is an ambassador of IAMCR in India and the Vice President of Global Media Education Council. Dr Pandey has a YouTube channel where he posts video lectures in the field of communication and media studies. He also has a website where he shares his lectures and other useful resources. In the first part of this article, Dr Pandey talks about his experience of being an IAMCR ambassador and in the second part, he shares his thoughts and experiences about the importance of online lectures as a source of open knowledge.
Could you please share your experiences as an IAMCR ambassador?
We started in 2015 when the idea of establishing a worldwide network of IAMCR ambassadors first came up. Then, we had quite a few Indian colleagues who regularly attended IAMCR conferences and wanted to know more about IAMCR. When I became an ambassador, they had somebody who was just a phone call away. That helped many of the colleagues because they needed help, answers or information about IAMCR. It was very nice that the IAMCR management came out with this initiative. That was also very useful for me to interact with other members and other people interested in IAMCR. We have communication networks such as WhatsApp groups.
We also organise special programmes; for example, in 2016, we organised an IAMCR regional conference in India. That was also a perfect occasion. We have had several other programmes where we could connect and talk to people about IAMCR and get updated with the latest news and research in our field and other related fields. For example, in 2020, we organised the IAMCR India webinar series with Professor Ujjwal K Chowdhury, Professor Janet Wasko, Professor Graham Murdock, Professor Thomas Tufte, Dr Anna Gladkova and Dr Benedetta Brevini. That was a five-day programme, and we had hundreds of participants. These events give us a platform to interact with other scholars from almost all corners of the world and reflect on IAMCR's values. IAMCR has such a respected brand name, and apart from all the other work that I do, representing IAMCR is quite a valuable experience.
How do you see IAMCR's position in India?
As I mentioned before, we have various communication networks for Indian scholars, and there are hundreds of members in these networks. We have regular interactions with the members there. People regard IAMCR as a very inclusive association; they do not feel like outsiders whenever they participate in IAMCR events such as the annual conferences. That is a very nice thing because there are some conferences, that mainly target participants from the Western world. However, IAMCR's annual conferences are international; you can interact with a person from Brazil, the United States, the Middle East, North Africa or any other part of the world. In this sense, IAMCR is a truly global and representative organisation and people really feel this. One word that keeps on coming is that IAMCR is very inclusive and it celebrates diversity. That is the impression that we get.
How does IAMCR collaborate with other organisations in your region?
I have been interacting with a lot of colleagues in various academic levels and positions. For example, we organised the last IAMCR webinar series in collaboration with Adamas University Kolkata. We had interactions with many institutions in different parts of India, and we invited people from these universities. We largely have a personal interaction with people and regularly collaborate with a number of universities at the regional level. Each time I invite people or institutions to collaborate for an event related to IAMCR, they are always more than willing. For example, we collaborate with the Press Club Kolkata, the oldest Press Club of the Working Reporters in this subcontinent, or even collaborate with UNICEF and invite people from UNICEF to talk about communication. So, IAMCR collaborates with many other educational institutions, NGOs or other organisations in the region.
What is your motivation to produce the online video lectures?
It is essential for us as teachers to get the best out of students. Most often, they lack many of these resources, or they do not have connections. If we put another barrier, it would be so challenging. We do all these lectures and studies for our students all the time, and we try to add on the resources just to widen the horizon a little bit. I thought, why do not I share these lectures with other students or people who are interested in learning new things. I also learn new things while preparing these lectures because I always look for updated information and recent studies. So, this is also an opportunity for me to improve myself. I have been teaching for almost 19 years; if I can help any of my students, this makes me feel that I am doing something good. Also, I receive many calls, messages, emails from people asking me to prepare a lecture on a specific topic or methodology, and I always try to cover those topics in my lectures. I was a journalist before getting into academy, and journalists always think about new stories and ideas. So, I believe that online video lectures are very innovative.
The COVID-19 pandemic, apart from all the problems, has allowed us to update ourselves and look for new ways to communicate scientific knowledge to a broader audience. I, for example, would not think of a channel if it was not for the pandemic because I did not even have time for that. However, during my online classes with my students, I decided to record the lectures and share them with other people. I received much positive feedback from my colleagues; some of them told me that they benefit from these online video lectures a lot. With these lectures, I believe that I can overcome the distances and interact with many people. Also, I prepare the lectures in English to overcome the linguistic barrier and reach out to many people from around the world. So, we are already doing these with smaller groups or on a more offline basis, but now we can share all these things, connect with students and colleagues worldwide, and I think this is very encouraging.
What is the importance of providing these online video lectures?
There are various levels of this. For example, some of my students do not have a good internet connection or might not absorb everything synchronously with online or face-to-face classes. So, I have to provide these kinds of resources for them. Also, I give them these lectures as resources with which they can easily connect on their own in their leisure time. Besides, I always try to include different skills, information on various software such as audio/video/photo editing tools and bring diverse perspectives through collaboration with colleagues. I think this is very useful for both our students and other people who wish to reach new information or obtain new skills.
How do you think this will be in the post-pandemic world?
We have had this discussion a number of times. Last year, we had a document known as the National Education Policy 2020 on blended learning. I think, in the post-pandemic world, even then, a lot of these online resources will continue to be important because that is something that empowers learning. This is also good for the planet; people do not have to travel all the way to reach information but look for these kinds of inputs. So, I believe that some part of our education will be about online. I remember March 2020 when we were told that the university would be closed. We were not prepared for any kind of online interaction. This kind of interaction might have come in the future, but the pandemic has speeded it up, and now we all know what it means and how to use many online tools. So, people got used to it and understood its strength. In this period, many people have been exposed to a lot of learning that they might not otherwise have, especially in the field of communication.
I think that we are in a paradigm shift because people are exposed to a new way of learning and a new way of thinking, which is very empowering. Of course, there are certain shortcomings; for example, we do not always get feedback or interact with people. Also, not everybody has the same resources; for example, some do not have a very good connection or a device. Although there are still some shortcomings, there are also so many advantages. For example, one can reach other people in their country or any other people from the other side of the world, and I am sure that these advantages will increase incrementally. Therefore, I strongly believe that this blended learning will continue.