Dear Fellow Members of IAMCR
You will be pleased to know that a new opportunity has been created for you to attend IAMCR's 2012 conference in Durban, South Africa from July 15 to 19. This opportunity, for those who have not yet submitted, is in the form of an extension of the deadline for submission of abstracts to February 28, 2012 via the IAMCR Open Conference System.
We recognize that all over the world, these are hard times. Europe is in the throes of a financial crisis, and the rest of the world reels. Money is tight, and university grants are thin. So, it is important to use the money we do have wisely and to good effect. Those of us in the Local Organizing Committee (LOC) really believe that if you are able to attend only one conference this year, it should be IAMCR in Durban.
There are a few good reasons why:
The people who attend and the papers they give
The plenaries and special sessions on offer
The great South African location, excellent accommodation and the welcoming surroundings of Durban
The opportunity to engage more deeply with the Association at its General Assembly, to be held concurrently with the Conference.
The people who attend and the papers they give
IAMCR conferences have a track record of being a great investment of personal or university grant money, your time and intellectual energy. Just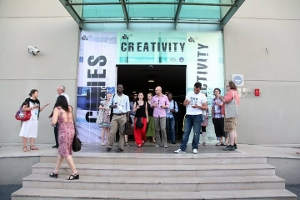 take a look at any reading list for media or communication studies, at either undergraduate or postgraduate level. The names of IAMCR members are sure to predominate. That is because the world over, IAMCR members lead their discipline and are at the cutting edge of new research and development within the fields in which they operate. We sometimes tend to forget this. But where else are you going to find a single communications conference with such wide global representation and so many really important presentations under one roof?
The plenaries and special sessions on offer
In any good conference, the plenaries should be arresting. This year, we have pulled out all the stops to give you what we hope will be a great feast. There will be three plenaries including the President's Round Table. Our President, professor Annabelle Sreberny will be posting details of this latter component shortly. However, among the plenary sessions being organised by the LOC, I am sure you will find these already confirmed elements very engaging. The first is focused on The value of Media Freedom. Two of the featured South African speakers are:
Jonathan Jansen, the Vice Chancellor of the University of the Free State, who will be presenter and chair. Jonathan is the author of a number of books on educational transformation in South Africa and the Global South more generally, he writes an insightful weekly column on the challenges and opportunities within the educational sector. An intellectual, a giant personality, Jonathan is credited with changing the face of the University of the Free State from being one of apartheid's bastions to a multi-racial, multi-lingual institution of excellence.


-

Advocate Thulisile (Thuli) Nomkhosi Madonsela, appointed by the President as South Africa's third Public Protector in October 2009. Adv. Madonsela is a human rights and constitutional lawyer, with equal expertise in public policy issues and legal affairs. She is also known as a controversial and fearless crusader against corruption, gender and racial inequality and most recently, the constitutional right for media to function within a free and democratic society. Advocate Madonsela receives as many accolades as criticisms, and is under constant scrutiny for her outspoken positions on practices and situations that are unethical and undemocratic. Delegates to IAMCR will find her a real intellectual standard-bearer of the conference theme: North South Conversations.
Another plenary will tackle the intriguing subject Nollywood in Africa. This event will showcase speakers from the heartland of Nollywood, Nigeria's video feature film industry, as well as experts in distribution and critical analysis of this expanding global south genre of media production
Security
A few prospective attendees have raised the matter of security, seeking the reassurance of those who are resident or who have visited, concerning their
safety. Durban, as many of you would know, is a frequent venue for prestigious international conferences. In this city, there is a calm, small town feel to daily interactions and visitors can be assured that there is no risk beyond normal urban travel globally. Nonetheless, security is taken very seriously both for residents and visitors alike. You will notice that outside your hotels on the beach front there will be uniformed police and other security and courtesy corps presence. Clearly, like everywhere else, visitors are expected to take the usual common sense precautions and must also do their part in ensuring that all goes well. Shortly, we will post a few safety tips for visitors on the conference website.
Durban's amazing heritage!
Durban boasts the largest and greatest harbour on the African continent. Just look out of your hotel window and see the merchant ships in the 'roadstead' serving the whole of southern Africa and beyond.
It is of interest to note that between 1824 and 1836 the village that now makes up Durban was called Port Natal. In the early years, Zulu warriors contested the incursion into the Old Fort (near your hotels) by Afrikaner (Boer) forces through battles that raged in 1842. Durban and the province of KwaZulu-Natal remains the heartland of South African's Zulu nation and heritage. But you will also find a strong Asian community in Durban as well. In 1860, indentured Indian people were transported into the region. Among those who came was Mahatma Gandhi and generations of Indians whose culture has helped to enrich the diversity and heritage of the city. With the release of African patriarch Nelson Mandela and coming of multi-party democracy in South Africa 1994, Durban has emerged as a modern and prosperous city in a culturally diverse province.
Environment
We hope you will visit with us for the conference in July, which is the mild South African mid-winter. It will be cool and pleasant. Personal or group trips will be an inviting option. The old city lies in an amphitheatre surrounded by hills called the Berea. This has created a microclimate which has resulted in lush vegetation and a beautiful environment. It is well worth taking the People Carrier Bus to the Durban Botanic Gardens, which lies at the base of the Berea ridge. It is Africa's oldest surviving botanic gardens and contains the world's rarest plant – the Wood's cycad.
The economy
South Africa is Africa's miracle economy. It has a booming stock exchange, an impressive commercial sector and a vast mining sector. Because of this and cautious handling of the economy, South Africa, despite its major prevailing problem of inequality of wealth and a tortured colonial past, is riding out the world economic storm very well.
While it is costly to book a long-haul flight to get to South Africa from America, Europe, India or Australia, ticket prices can be quite reasonable if booked early. Once in South Africa, visitors frequently comment on how 'reasonable' prices are in the shops. Not all South Africans agree, but the exchange rates being what they are, visitors frequently end up buying new wardrobes for themselves in any of the half dozen modern shopping complexes which are scattered around Durban.
But don't forget the indigenous African traders and 'crafts-persons'. There is a well developed informal sector that helps feed families, often living miles away from the city centre. Look out for items being vended in stalls along the beach front and visit the African Arts Centre in Florida Road or the Arts Centre in Bulwer Road, and have a meal or coffee in the nearby market and cafes. Durban is also well known as the gateway to:
Drakensberg Mountains
Historic Pietermaritzburg
Birding in a province with over 400 species
Zulu and Boer Battlefields
Africa's oldest game reserves
Deep sea game fishing
IAMCR in Durban
Within this fascinating venue, we will have to remind you not to forget the academic conference! IAMCR 2012 will be a venue for intensive intellectual exchanges in the 31 Section and Working Groups, as well as joint sessions and key plenaries of IAMCR.
Through this introductory letter, we are extending a personal invitation to all scholars, researchers, students and academics from all continents to join us for the 2012 conference of the IAMCR, here in beautiful, calm and historic Durban. There will be lots to do and see and an opportunity to dialogue with colleagues from every continent!
Please explore the conference website and send enquiries to the LOC at vanderwesthuizens[at]ukzn.ac.za or to Conference Chair, Professor Hopeton Dunn at hopetodunn[at]gmail.com.
See you in July!
IAMCR 2012 Local Organising Committee
| | |
| --- | --- |
| Prof R E Teer-Tomaselli (Co-Chair)     | teertoma[at]ukzn.ac.za |
| Dr M Tager (Co-Chair) | tagerm[at]uj.ac.za |
| Prof D McCracken (Treasurer) | mccrackend[at]ukzn.ac.za |
| Ms S van der Westhuizen (Administrator)     | vanderwesthuizens[at]ukzn.ac. |
Links