The deadline for submissions of abstracts of papers and panel proposals for the IAMCR Durban 2012 Conference has been extended to February 28, 2012. This will permit applicants from all continents who could not make the earlier deadline to now submit their abstracts or panels for consideration for Durban.
The conference is to be held from July 15-19, 2012 at the Howard College Campus of the University of KwaZulu Natal (UKZN) in Durban, South Africa.
The 2012 IAMCR conference will be held under the general theme, 'South-North Conversations'. The theme calls for balanced and empowering narratives between communications thinkers in developing countries, sometimes referred to as the 'global south' and those of the developed countries in the 'north'. It seeks to expose the interactive linkage of ideas and research initiatives within and across development and cultural regions.
Consult the specific CfPs of the individual Sections and Working Groups
Participants in the conference will interrogate the compatibilities and disjunctures in media and communication concepts originating respectively from the 'Global South' and the 'Global North'. In choosing the theme 'South-North Conversations', t
he conference organisers acknowledge that the 'South' has something important to say to the 'North', and vice versa, and further that the 'North' has something to gain from its relationships with the 'South'. The concept of 'conversations', indicates peer-to-peer dialogue, and a more interdependent vision of global conceptual engagements.
The conference will also seek to explore the varied modalities and technologies of communication, new methods of media flows and of associated identity creation, image-making and perceptions globally. It will examine the diverse forms of technology transfers and literacies from differently-situated regions of the globe, and differently- situated communities within regions, countries or organisations.
Contributions from both established researchers as well as from young and emerging scholars are equally encouraged.
Selected Issues
Some of the sub-themes that lend themselves to exploration across many of the IAMCR Sections and Working groups include:
Revisiting 20th century media and communication constructs
Critically evaluating communications research in the global south
Uneven access to technological, political and social capital
Varied access to information technologies
Alternative media literacies
Issues of the so-called 'digital divide' post WSIS
Asymmetrical news and information flows
Trend lines and origins of innovations, apps and new media
The spectre or reality of cultural imperialism: regional, global
Fighting back: empowerment of the local and regional
Local languages – a growth area or reversals in current global media eco-systems
Media development, democracy and ethics
Social media, challenge and advocacy
Users and service providers: north and south
Communication as a tool of empowerment of the marginalised and the stigmatized
Global media hegemony, regional hegemony and counter hegemony
Whose story?: competing historical narratives of communication from the north and south
Any other topic related to the general conference theme
Submission of Abstracts
Each Section and Working Group of the IAMCR has issued its own Call for Papers, based on the general thematic outline above. The list of Sections and Working Groups and links to their respective Calls may be found below.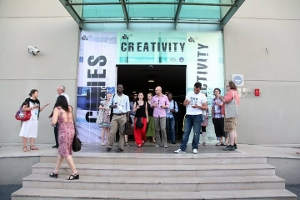 Abstracts should be submitted only via the central Open Conference System (OCS) at http://iamcr-ocs.org.
Deadlines
The new abstracts deadline is February 28, 2012. The OCS system at http://iamcr-ocs.org will also close on that day.
Decisions on acceptance of abstracts will be communicated to individual applicants by their Section or Working Group Head no later than March 19, 2012.
Conference registration will open as originally scheduled on March 12, 2012 for bookings by participants.
For those whose abstracts are accepted, full conference papers are to be submitted via the IAMCR OCS by June 10, 2012.
Guidelines for Abstracts
Abstracts should be between 300 and 500 words in length.
All abstract submissions must be made centrally via the OCS at http://iamcr-ocs.org There are to be no email submissions of abstracts addressed to any Section or Working Group Head.
There should be no more than three (3) abstracts bearing the name of the same applicant either individually or as part of any group of authors. Please note also that the same abstract or another version with minor variations in title or content must not be submitted to other Sections or Working Groups of the Association for consideration, after an initial submission. Such submissions will be deemed to be in breach of the conference guidelines and will be automatically rejected by the Open Conference System, by the relevant Head or by the Conference Programme Referee.
For further information, please contact the Local Organizing Committee (LOC) or consult the Conference Organizers via the website at: http://www.iamcr2012.ukzn.ac.za/ or by email at IAMCR2012@ukzn.ac.za.
The individual CfPs of IAMCR's 31 Sections and Working Groups and of Joint Sessions can be accessed via the links below.
Note: The deadline for submission of abstracts for all Sections and Working Groups is now 28 February 2012 regardless of what date appears in the individual CfPs.
Sections
Working Groups
Joint Sessions