Madrid Update #1: January 2019 - enero de 2019 - janvier 2019
In this update
Two weeks left to submit your proposal: Deadline February 8

What will we debate at IAMCR 2019?

Madrid 2019 travel grants

IAMCR 2019 awards

Solutions for participants with children

Welcome from the Dean, President of the Local Organising Committee (LOC)

Letter from Loreto Corredoira, Director of the LOC

What to do in Madrid when you are not at the conference

The host institution: Complutense University of Madrid

Who's who in Madrid's LOC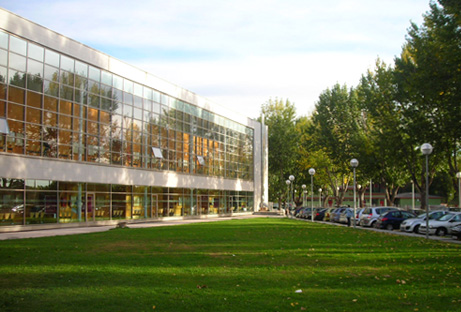 Welcome to Madrid Update!
This is the first in a series of "Madrid Updates" that we sent to current and former IAMCR members, people who have submitted papers to IAMCR 2019, and posting on the website. We hope you find it useful and informative.
What will we debate at IAMCR 2019?
The calls for proposals are one way of seeing what we'll be debating at IAMCR 2019. For an alternative way of seeing, look at the wordcloud we made of the top words in the titles of the abstracts we have already received. We'll update this wordcload as we get closer to the deadline. Click here or on the image to see the fullsize wordcloud.
Madrid 2019 travel grants
Twenty grants of up to US$1,500 will be made available to early-stage scholars, who are members of IAMCR in good standing, reside in low and middle income countries and have papers accepted for presentation at the conference in Madrid. The grants are to help offset the travel costs of members who would otherwise be unable to attend. Read more>
IAMCR 2019 awards
IAMCR will make several awards and grants available to members in 2019: The Prize in Memory of Herbert I. Schiller, the UCF/IAMCR Urban Communication Research Grant, & the New Directions for Climate Communication Research Fellowship. Deadline to apply: 7 April 2019. Read more >
Solutions for participants with children
IAMCR Madrid is working to find solutions for participants who travel with young children. The Local Organising Committee is considering various options. One alternative, for children above 3 years old, is the summer camps organized at UCM. Those summer camps can include activities related to natural sciences, mathematics or dramatic arts.
To confirm which options will be available for participants and the cost of those services, participants who plan to travel with children and young people, should confirm before April 7 2019:
That they will travel with young children,
The age of each child,
The language or languages spoken by each child.
If you will be travelling with young children and are interested in this service, write to: madrid2019@iamcr.org with the above information.
Welcome from the Dean, president of the Local Organising Committee (LOC)
The School of Communication of the Complutense University of Madrid is proud to host the IAMCR Conference, which will be held from 7 to 11 July, 2019. Read more >
Letter from Loreto Corredoira, director of the LOC
In this letter to IAMCR members, Loreto Corredoira, director of the Local Organising Committee of the Madrid conference, tells us about recent developments, including exciting news about two excellent plenaries. Read more >
What to do in Madrid when you are not at the conference?
David Noack Pérez, Madrid's Convention Bureau Director, recommends Madrid's official tourism site as a place to start planning your activities outside of the conference.
His recommended highlights include: