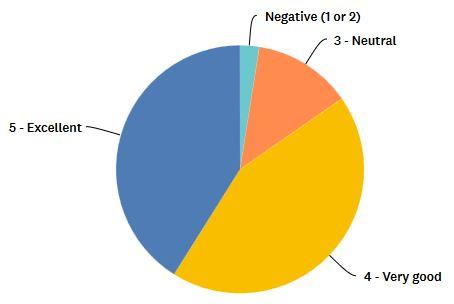 Following each annual conference, IAMCR conducts an online survey of participants to evaluate how we did and to learn how to make future conferences better. A total of 1,256 participants were invited to complete the survey for the 2017 conference and 637 (51%) responded. Respondents came from 53 of the 67countries represented at the conference.
Overall the conference was highly-rated by participants. Asked to rate it on a scale of 1-5 where 1 is Poor and 5 is Excellent, 44% said it was excellent (5) and 43% gave it a 4 (Figure 1. Click on the chart to enlarge it). Only 3% rated the conference negatively with a 1 or 2. Comments left by respondents commended the organisation, venue and networking opportunities. Others said it was expensive and lacked lunch options for people with dietary restrictions. Language was the subject that got both positive and negative comments, with many highlighting the importance of linguistic diversity in global meetings.
Eighty-seven percent of respondents said they would recommend future IAMCR conferences to colleagues (Figure 2). On a scale of 1-5, 64% said it was very likely they would recommend IAMCR conferences to colleagues (score 5) and another 23% likely (score 4).
Perhaps the main reason people appreciated IAMCR was the opportunities provided for intellectual exchange. Not only did 85% of respondents give the conference a 5 or 4 rating for its opportunities for intellectual exchange, 93% said they met someone at the conference who they plan to contact again for something related to their work (Figure 3) and 91% said they acquired new information, knowledge or methods applicable to their work.
The results of the detailed survey, with 37questions covering logistics, content, social events, accommodation and other themes, are being carefully studied by the organisers of next year's conference, determined to make IAMCR 2018 even better.
See a summary of selected survey results
See an analysis of IAMCR 2017 participation
A selection of comments left by respondents
A very fruitful conference and something more than a conference. Personalized communication with the organizing committee and off conference work with the sections that gave me the opportunity to understand the political, cultural and historical issues of the situation of Colombia and Latin America in general. I have to thank you people for this opportunity. Ambaro worked very hard for this aspect of conference and I am really thankful for these new options for collaboration with Latin American colleagues that are now open.
I loved the bilingual focus!
An excellent conference that was well planned, organized and executed. While I have always found these conferences excellent, over the last few years they have been getting better and better!
Sería conveniente generar más tipos de encuentros temáticos entre los pesquisadores, provocar reuniones informales, y también reuniones o participación de la comunidad en general. Saludos y felicidades.
Menos mesas temáticas. Eran tantas que era difícil escoger a cual asistir. Muchas gracias excelente congreso. Inigualable oportunidad.
This was my first chance at attending an international communication conference. I plan to remain a member of this association and to attend the next IAMCR conference in 2018
Es la primera vez que asisto a un IAMCR y estoy muy sorprendida con el nivel de mi grupo de trabajo (Comic Art). He ido a muchos congresos internacionales con ese tema y en especial, este me pareció de gran nivel. El trabajo de John Lent ha sido magnífico. Espero ir a los siguientes congresos.
I think this was one of our best conference. Well organised and good time and space for networking and exchange, both intellectual and personal.
It is interesting to maintain the variety of countries for hosting the congress, not only to give opportunities to more variable participants: it is important to know other realities in terms of academic approaches as well.
Best: the venue, the PDF programme and some plenary sessions. To improve: coffee breaks, lunch and the app
IAMCR 2017 in Cartagena was a benchmark for IAMCR - excellent diversity, excellent content and very enjoyable