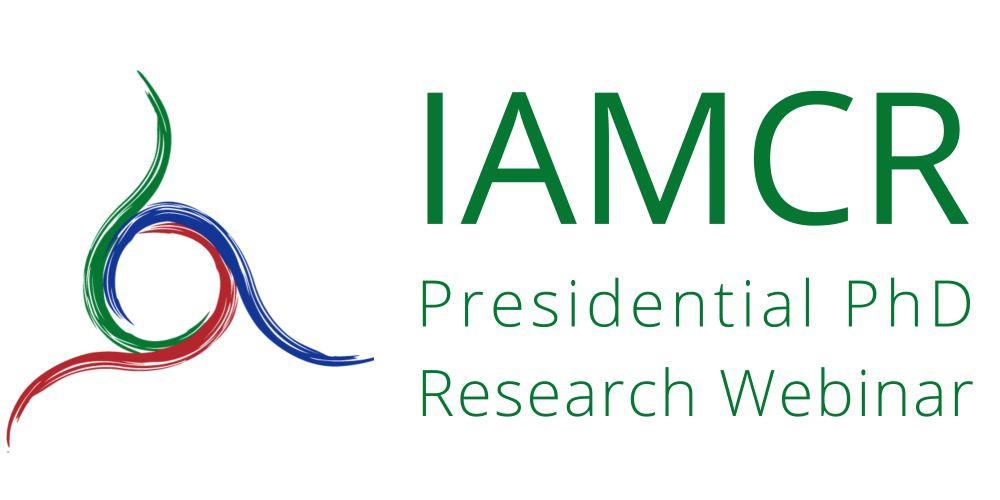 2022 Presidential PhD Research Webinar "Communication, Citizenship and Representative Democracy: Theoretical and Practical Approaches"
This event took place on 07 October 2022.
Convenor: Nancy Gakahu, University of Leeds, UK
Description: The format will consist of two clusters of presentations and two rounds of Q&A discussions after each cluster. The aim is to encourage discussion on the research that early-stage scholars do, and provide more visibility to them.
The webinar intends to bring together doctoral scholars to discuss the place and role of citizens in representative democracy, and especially, how citizens use various media and communication channels and platforms to connect and engage with the political class.
Duration: 3 hours
Location: The meeting will take place on Zoom. Attendees will receive their personal invitation at least 24 hours before the webinar begins.
Who can participate: All IAMCR members, especially students are invited to participate.
Registration: There is no charge for IAMCR members, but space is limited.

---
Presentations and Speakers
Communication, Citizenship and Representative Democracy: Perspectives from Kenya – Nancy Gakahu, University of Leeds, UK
Nancy is a commonwealth scholar and PhD student at the school of Media and Communication, University of Leeds, UK. Her doctoral project focuses on media, women political leaders and representative democracy. Specifically, Nancy is concerned with how women politicians in Kenya use social media platforms for political representation.
---
Communication, Citizenship and Participation in Youth in Democracy – Sergio Ricardo Quiroga, National San Luis University, Argentina
Sergio graduated in Social Communication from the National University of San Luis. He is a Higher Education and Research specialist in Social and Human Sciences.
---
Critique, crowdsource, curate: unofficial participatory methods in the regionalism discourse of ASEAN – Kristian Agustin, Manchester Metropolitan University, UK
Kristian is a PhD candidate at Manchester Metropolitan University. He is conducting his research on participatory photography and curatorial collaboration in Southeast Asia. His interdisciplinary practice often includes working with digital media (graphic design, photography, and video) together with poetry and performance.
---
The Pacification of the Public in Canadian Communications Policy Creation – Bradley McNeil, McMaster University, Canada
Bradley is a PhD Student in Communication, New Media and Cultural Studies at McMaster University, studying the intersections between freedom of expression, content moderation, and platform governance from critical and historical perspectives.
---
Representative Democracy and Representation: A Critical Analysis – David Stokes, University of California, US
David is a doctoral candidate in Information Studies in the School of Education and Information Studies at UCLA. He examines collaboration and the use of retrieval systems in group settings where the goal is consensus. His dissertation focuses on experts in the scientific community during research and decision-making processes and how they judge, recommend, and negotiate knowledge based on collaborative information-seeking behaviours.
---
Political Discourse on social media: Role of Citizen Journalism in the Promotion of Hate Speech – Waqas Mahmood, The Islamia University of Bahawalpur, Pakistan; Iffat Masood, The Autonomous University of Barcelona, Spain; and Ummul Baneen, Riphah International University, Pakistan
Waqas is a Mass Communication and Media Studies Lecturer at GIFT University Gujranwala, Pakistan. He is also a doctoral candidate in Media Studies in the Department of Media Studies, The Islamia University of Bahawalpur, Pakistan. His dissertation project is on "Misinformation on Social media".
Iffat is a doctoral candidate in political communication at Universitat Autonoma de Barcelona (UAB), Spain.
Ummul is a PhD Scholar and Assistant Professor. She has been teaching at Foundation University Islamabad as Assistant Professor in Arts and Media Department since 2015. She is also working on her PhD project in Creative arts and communication.
---
About the IAMCR Presidential PhD Research Webinars: The webinars provide a forum for critical dialogue for PhD researchers in the field of communication and media studies. The central goals of the webinars are to give visibility to doctoral research in the global communication and media studies field and stimulate interaction and cooperation among PhD students.