Register for "BRICS Short Film Fest" webinar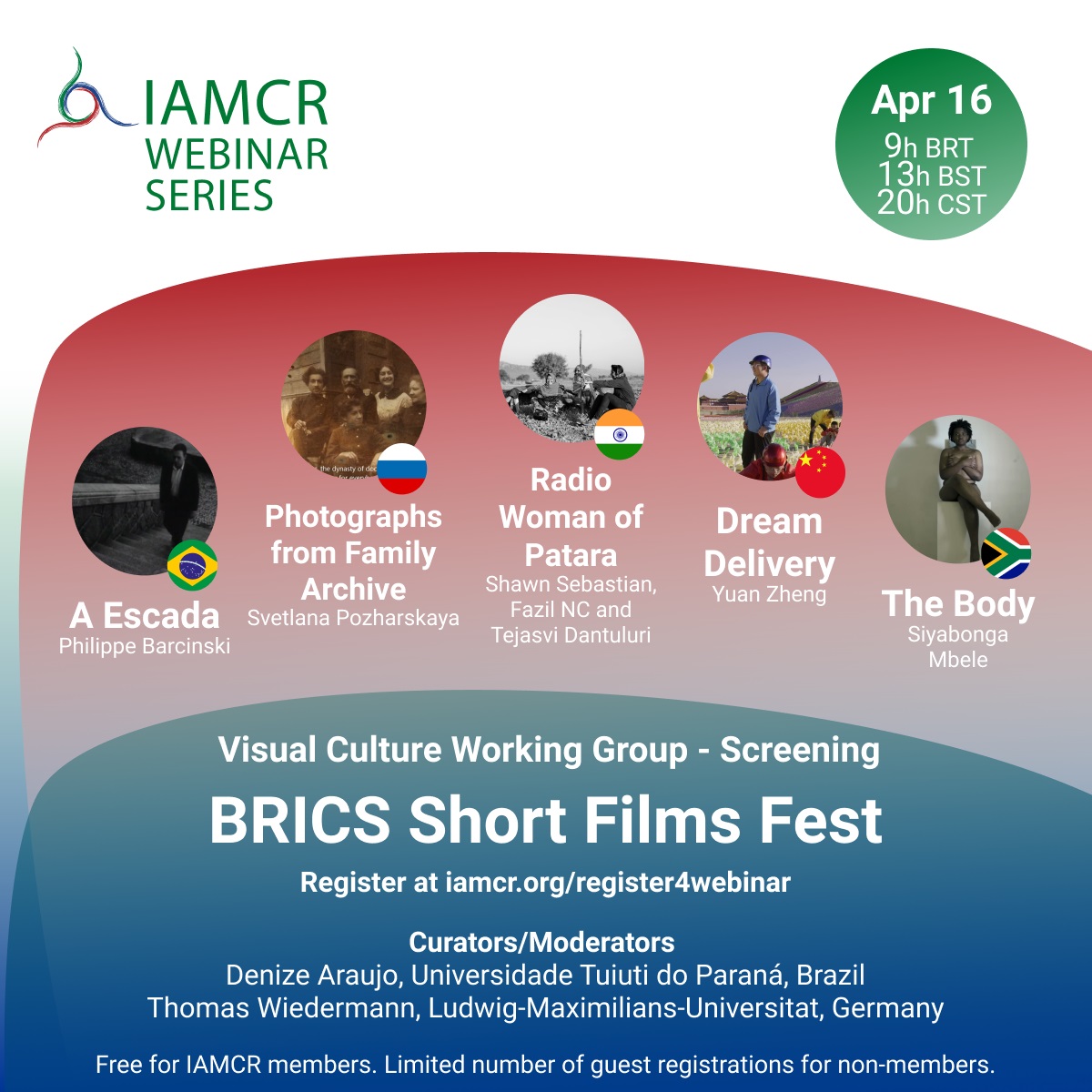 As part of the recently launched IAMCR Webinar Series, the Visual Culture Working Group will sponsor a webinar titled "BRICS Short Film Fest" on 16 April. The webinar will screen five short films from BRICS countries: Brazil, Russia, India, China and South Africa followed by presentations from the directors of the shorts.
To register you must be a member of IAMCR and logged in to your account.
Title: BRICS Short Film Fest
Who can participate: The webinar is free for all IAMCR members and is limited to 100 participants
Sponsored by: Visual Culture Working Group (VIC)

Moderated by: Denize Correa Araujo (Universidade Tuiuti do Paraná, Brazil) and Thomas Wiedemann (Ludwig-Maximilians-Universitat, Germany)
Short film titles and invited speakers
"A Escada" - Brazil
Philippe Barcinski – Film director, screenwriter with awarded films
"Photographs from Family Archive" - Russia
Svetlana Pozharskaya – Visual Artist and Photographer
"The Radio Woman of Patara" - India
Shawn Sebastian - Documentary Film Maker, Photographer and Independent Journalist
"Dream Delivery " - China
Yuan Zheng – Film Director, MFA in Film, Video, New Media and Animation
"The body" - South Africa
Siyabonga Mbele – Film Director
Date & time: 16 April 2021 - 09h00 Brazil /12h00 UTC / 14h00 Cape Town / 15h00 Moscow / 08h00 New York /15h00 Nairobi / 17h30 Kolkata / 20h00 Beijing / 22h00 Brisbane
Description: The BRICS Short Film Fest is an artistic and cultural activity sponsored by the Visual Culture Working Group as a way to promote interaction among IAMCR members and guests. At the webinar five short films from BRICS countries will be screened: Brazil, Russia, India, China and South Africa, followed by invited directors comments about their own shorts. Participants will then be able to express their views on the screened films.
Location: The meeting will take place on Zoom. Pre-registered partricipants will receive their personal invitations 24 hours before the webinar begins.
Registration: There is no charge for IAMCR members but pre-registration is required by 14 April @ 17h00 UTC. To register, complete the form below. You must log in to your account in order to see and complete the form.
Not sure if you're a member? Check the membership directory.
If you are not a member of IAMCR, you can join here. A limited number of guest invitations for non-members may be available. Send an email with the subject "request to be added to the guest list for the BRICS Short Film Fest webinar" to register4iamcrwebinar [at] gmail.com (subject: request%20to%20be%20added%20to%20the%20BRICS%20Short%20Film%20Fest%20webinar%20guest%20list) , if you would like to be added to the guest list.
About the series: The IAMCR Webinar Series is a new initiative that aims to open-up channels for engagement and participation in addition to the annual conference, while echoing the great work that is done by Sections/Working Groups and IAMCR members. The series will include presentations, debates, book and project launches. The format is flexible, the connection is what matters. Join us!
The deadline to register is 14 April @ 17h00 UTC
---