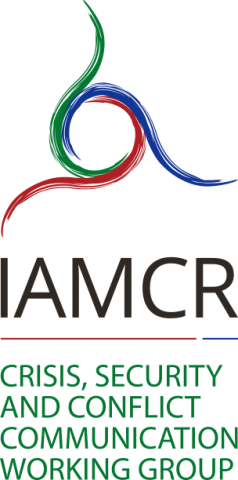 The call for papers below is an extraordinary reopening of the original Beijing call for papers for authors who did not submit to the Beijing conference but want their work considered for Tampere.
---
The Crisis, Security and Conflict Communication Working Group of the International Association for Media and Communication Research (IAMCR) invites the submission of abstracts of papers and proposals for panels for the 2020 Congress of the Association, which will be held from 12 to 16 July, 2020 at Tampere University in Tampere. Submissions for this extraordinary reopening will be accepted from Monday 17 February, 2020 until Monday 2 March 2020 at 23:59 UTC.
IAMCR conferences address many diverse topics defined by our 33 thematic sections and working groups. We also propose a single central theme to be explored throughout the conference with the aim of generating and exploring multiple perspectives in plenary sessions and in some of the sessions of the sections and working groups. The general conference theme for 2020 is "Reimagining the Digital Future: Building Inclusiveness, Respect and Reciprocity".
See the IAMCR 2020 general call for proposals.
In keeping with the overarching theme, we particularly welcome proposals that engage with this topic, and related topics, in relation to crisis, security and conflict communication. Key questions include, but are by no means limited to: how does increased digitalisation influence notions of security and insecurity? How might the growing integration of digital technology into everyday life both include and exclude individuals, communities and societies during crisis and conflict? How does increasing surveillance and monitoring practices impact upon individual and societal (in)securities? How might we understand access to digital communication technology as a benefit and/or a form of control? In an increasingly digitalised future, how might notions of positive security (protection from harm) and negative security (enablement or facilitator of freedoms) be reimagined?
This year we are doing a joint session with the Emerging Scholars Network. We welcome submissions from PhD and Master students, as well as early-career researchers willing to explore the topics related to crisis, security and conflict communication. Individual submissions for this joint session should be submitted to the Individual submissions for this joint session should be submitted to the Emerging Scholars​ Network Section, including ESN/CRI in the title field.
The Crisis, Security and Conflict Communication Working Group provides a forum for scholars researching the ways in which political, social and economic crises, wars and conflicts, security matters, disasters and emergencies, risks and acts of terrorism are communicated, represented and mediated, combining global and local perspectives. We therefore adopt a broad understanding of communication in the context of crisis, security and conflict with theoretical, methodological and empirical contributions from a range of perspectives and disciplines. The aim is to stimulate diverse and fruitful discussions across disciplines and specialisation. To do so, we adopt an interactive approach where we ensure that each submitted paper will have an assigned discussant.
Key themes include:
Media and Communication related to Security and Insecurity.
Media and Communication related to Conflicts and Wars.
Media and Communication related to Immigration, Mobility, Ethnicity and Race.
Media and Communication related to Economic and Financial Crisis.
Media and Communication related to Disasters, Pandemics, and Climate Change.
Media and Communication related to Political Crisis.
In addition to individual papers, we would like to encourage research panels aimed at exploring the communication of crisis, security and conflict in different areas and regions across cultural and disciplinary boundaries. A proposal for a panel should provide a panel title, a panel summary text (with the overall idea of the panel in maximum 500 words), and short abstracts for each paper in the panel, with titles and authors. A panel chair and a discussant can also be proposed. Please check carefully the IAMCR guidelines for panel proposals.
Languages
The Crisis, Security and Conflict Communication Working Group can only accept abstracts in English and can only arrange for presentations in English.
Submission guidelines
Abstracts should be between 300 and 500 words. All abstracts must be submitted at https://iamcr2020.exordo.com. Abstracts sent by email will not be accepted.
It is expected that authors will submit only one (1) abstract. However, under no circumstances should there be more than two (2) abstracts bearing the name of the same author, either individually or as part of any group of authors. Please note also that the same abstract or another version with minor variations in title or content must not be submitted to more than one section or working group. Any such submissions will be deemed to be in breach of the conference guidelines and will be rejected. Authors submitting them risk being removed entirely from the conference programme.
The deadline to submit abstracts is 23:59 GMT on 2 March 2020.
See important dates and deadlines to keep in mind
For further information, please consult the conference website, or contact the Local Organizing Committee by email: tampere2020 [at] iamcr.org or the heads of the working group.
Evaluation Criteria
Submitted abstracts will be evaluated on the basis of:
1. Theoretical contribution
2. Methods
3. Quality of writing
4. Literature review
5. Relevance of the proposal to the work of the Section or Working Group
6. Originality and/or significance
Contacts
Please contact either Rikke Bjerg Jensen or Virpi Salojärvi (details below), if you have any questions.
Working Group Chair
Rikke Bjerg Jensen
Royal Holloway University of London, UK
Information Security Group
rikke.jensen [at] rhul.ac.uk
Working Group Vice-Chair
Virpi Salojärvi
University of Helsinki, Finland
Political Science
virpi.salojarvi [at] helsinki.fi