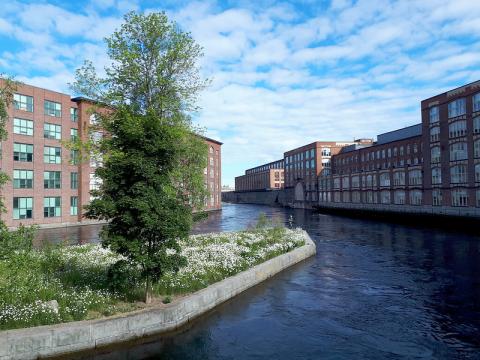 In this update
Welcome to Tampere Update!
This is the first in a series of "Tampere Updates" that we will be sending to current and former IAMCR members, people who have submitted papers to IAMCR 2020, and participants at IAMCR's 2019 meeting in Madrid. If you do not want to receive further updates, see the unsubscribe information at the end of this message.
---
From Beijing to Tampere: Building inclusiveness, respect and reciprocity (with resilience!)
Not surprisingly, a lot of things about IAMCR 2020 have changed over the past 2 weeks, with the sudden change of venue from Beijing to Tampere. The Finnish local organising committee (LOC), alongside IAMCR's secretariat and executive board, has been working hard to prepare budgets, secure venues, arrange for accommodation, adjust timelines, and everything else that needs to be done to ensure that Tampere is ready for you on 12 July. The letter from the LOC below mentions a few of those changes, and the Tampere 2020 website (https://iamcr.org/tampere2020) will begin to announce the details in the coming days. An article published last week on the NordMedia Network website (https://nordmedianetwork.org/latest/news/operation-rescue-finns-to-host-...) describes how the transition from Beijing to Tampere went from "a crazy question" to a realistic plan, in record time.
A central pillar of that realistic plan is to build on the work already done for Beijing, changing what needs to be changed, but, as much as possible, constructing on the solid foundation that was prepared by our Chinese colleagues. The dates, the theme (https://iamcr.org/tampere2020/theme) , many of the plenary speakers, and even the logo have been largely maintained. Authors who submitted work to the Beijing conference were able to easily resubmit it for Tampere. At the time of writing, with almost a week remaining before the final deadline, more than 60% of the 1,850 abstracts submitted for Beijing have been resubmitted for Tampere, while hundreds of new ones have come in from scholars who had not planned on joining us in Beijing. Despite the challenges, IAMCR's network is proving to be resilient and rather than a last minute stand-in, Tampere is shaping up to be a star in its own light.
Meanwhile, our solidarity and our appreciation goes to our colleagues at Tsinghua University and XJTLU in China. On top of everything else, they now need to come up with a new theme, a new plan for plenary sessions, and a new logo as they prepare to host IAMCR in 2022.
Bruce Girard
Executive Director
---
Letter from the Local Organising Committee
Dear colleagues,
Finland and Tampere are waiting for you in July. It will be midsummer, with sunrise at 04.00 and sunset at 23.00, leaving us with plenty of daylight for our intellectual and social exchanges. Only a thousand kilometres north, above the Arctic Circle, the sun will be above the horizon all night.
Tampere Hall, the largest conference and concert centre in the Nordic countries, and the main campus of Tampere University, the second largest university in Finland, will provide the setting for our conference. It was a lucky coincidence that these venues were available when the Covid-19 virus blocked the advanced preparations of our Chinese colleagues. We are also pleased to be able to present the same theme and many of the same keynote speakers that had been planned for Beijing.
Whatever time your day ends, there are plenty of accommodation options for the choosing. Tampere has a total capacity of 3,000 beds, at a variety of price ranges, and no other major events are planned that week to cause scarcity. Later this week you'll be able to browse some of the options on the accommodation page of our website.
If you arrive a few days early, or stay on a few days after the conference, Finland offers plenty of opportunities for tourism and holidays. An overview of these opportunities will be posted on the website soon, as well as an introduction to the vibrant city life of Tampere.
While the facilities and environment secured, the substance of the conference depends on the participants and the vast intellectual input behind the papers. If you haven't already, there is still time for you to prepare your contribution to this part. The call for proposals (https://iamcr.org/tampere2020/cfp) and the submission site (https://iamcr2020.exordo.com/) will be open until 23h59 UTC on Monday 2 March.
Looking forward to seeing you in five months,
Kaarle Nordenstreng, Sinikka Torkkola, Teija Waaramaa
For the Local Organising Committee (https://iamcr.org/tampere2020/loc)
---
CFP: Reimagining the Digital Future: Building Inclusiveness, Respect and Reciprocity | Tampere, Finland | 12-16 July 2020
The call for proposals for the extraordinary reopening of the submission period for IAMCR 2020 for authors who did not submit to the Beijing conference but want to submit their work for Tampere will remain open until 23h59 UTC on Monday 2 March. If you submitted a paper to Beijing and are able and interested in presenting in Tampere, the same deadline applies to reactivate your paper.
* Call for Proposals 2020 – Extraordinary Reopening (https://iamcr.org/tampere2020/cfp)
* Section and Working Group Calls for Proposals – Extraordinary reopening (hhttps://iamcr.org/tampere2020/s-wg-cfp)
* IAMCR Tampere 2020 submission site (https://iamcr2020.exordo.com/)
---
IAMCR 2020 awards
While the dates of IAMCR 2020 remain the same, some the deadlines for applying for various awards and grants have been changed, giving candidates some extra time to prepare. The previous deadline, 8 April, has now been moved to 18 April. The awards and grants include 25 travel grants for early-career scholars, the UCF/IAMCR Urban Communication Research Grant, the IAMCR award in memory of Dallas Smythe, and the New Directions for Climate Communication Research Fellowship. The Islam and Media Working Group is offering cash awards (https://iamcr.org/s-wg/ism-award-2020) for papers submitted to Tampere 2020 and a travel subsidy for an emerging scholar presenting his/her paper at the conference.
---
IAMCR Elections 2020
IAMCR holds a General Assembly of the membership every two years, and every 4 years we elect a new Executive Board (EB - 5 members) and International Council (IC - 15 elected members). Nominations for positions on the EB and IC are being accepted until 17 March. Voting is conducted online between 11 and 31 May. For more information, visit the Election 2020 (https://iamcr.org/election2020) page on the IAMCR website.