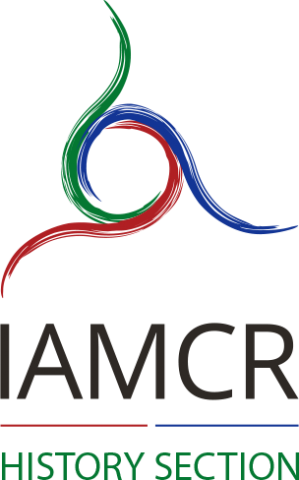 The call for papers below is an extraordinary reopening of the original Beijing call for papers for authors who did not submit to the Beijing conference but want their work considered for Tampere.
---
The History Section of the International Association for Media and Communication Research (IAMCR) invites the submission of abstracts of papers and proposals for panels for the 2020 Congress of the Association, which will be held from 12 to 16 July, 2020 at Tampere University in Tampere. Submissions for this extraordinary reopening will be accepted from Monday 17 February, 2020 until Monday 2 March 2020 at 23:59 UTC.
IAMCR conferences address many diverse topics defined by our 33 thematic sections and working groups. We also propose a single central theme to be explored throughout the conference with the aim of generating and exploring multiple perspectives in plenary sessions and in some of the sessions of the sections and working groups. The general conference theme for 2020 is "Reimagining the Digital Future: Building Inclusiveness, Respect and Reciprocity".
See the IAMCR 2020 general call for proposals.
The Section especially welcomes proposals dealing with the (pre)history of digital media and histories of media activism. Some of the topics that may be addressed are:
Histories of the internet and digital media
Histories of international/global communication
Digital technologies and social change
Technologies of surveillance and control
Community and local media
Hate speech against groups and individuals
Misinformation, disinformation, fake news and propaganda
Media representations of minorities and unprivileged social groups
Equality and discrimination from the point of view of migration, membership, citizenship and the "right to belong"
(In)equality in (digital) media access
Papers and panels dealing with other historical dimensions of media and communication research are also welcomed, including but not limited to the following topics:
National and international histories of the press, broadcasting and digital media
History of professional and citizen journalism (including alternative types of journalism)
History of popular journalism
Media in imperial and in post-colonial contexts
Media and populism in different historical contexts
National identities and the media (including how the media are used by the State and other political actors to promote nationalism and separatism)
Critical historical approaches to cultural and media industries
Collective memory of political, social and cultural transformations and events
Media and communication research and digital archives
Biographical research of media executives, producers and journalists
Methodologies for research in communication history
History of communication theory
Media archaeology
Submission guidelines
Abstracts should be between 300 and 500 words. All abstracts must be submitted at https://iamcr2020.exordo.com. Abstracts sent by email will not be accepted.
It is expected that authors will submit only one (1) abstract. However, under no circumstances should there be more than two (2) abstracts bearing the name of the same author, either individually or as part of any group of authors. No more than one (1) abstract can be submitted to any section or working group. Please note also that the same abstract or another version with minor variations in title or content must not be submitted to more than one section or working group. Any such submissions will be deemed to be in breach of the conference guidelines and will be rejected. Authors submitting them risk being removed entirely from the conference programme.
The deadline to submit abstracts is 23:59 GMT on 2 March 2020.
See important dates and deadlines to keep in mind
For further information, please consult this website, or contact tampere2020 [at] iamcr.org or the heads of the Section.
Language Policy
Paper and panel proposals can be submitted either in English or Spanish. Authors submitting abstracts in English are expected to present their papers in English; those submitting in Spanish are expected to present their papers in Spanish. The Section will organize sessions in both English and Spanish at the Tampere conference (as long as a significant number of papers in Spanish are accepted)
Important indications about paper and panel proposals
Paper proposals should be of 450 to 500 words long, and should list the paper's title, author's name, university affiliations, and contact e-mail. The abstract should specify the subject, main question, aims, theoretical framework, methodology and indicate some of the findings, if pertinent.
Panel proposals should include a panel description (panel title, names of authors and titles of each presentation, details of the moderator and optional discussant, and a framing text) and an abstract for each presentation. Please check carefully the IAMCR guidelines for panel proposals. All panels shall include 4 or 5 papers.
Submission of abstracts will be open between December 1, 2019 and February 10, 2020 (deadline). Early submission is strongly encouraged.
Upon submission of an abstract, you will be asked to confirm that your submission is original and that it has not been previously published in the form presented. You will also be given an opportunity to declare if your submission is currently before another conference for consideration.
Proposals will be peer reviewed by members of the History section. Other reviewers are welcomed to join. To do so please send an e-mail to the section chair, Nelson Ribeiro (

nelson.ribeiro

[at]

ucp.pt

).
Criteria for evaluation: 1) theoretical contribution, 2) methods, 3) quality of writing, 4) literature review, 5) relevance of the submission to the work of the section, and 6) originality and/or significance of the work.
Presenters are expected to bring fully developed work to the conference. Prior to the conference, it is expected that a completed paper will be submitted to Section Chairs.
The results of peer reviews of submitted abstracts will be announced by the section heads by March 27, 2020. For any further information, please contact the section chair, Nelson Ribeiro (nelson.ribeiro [at] ucp.pt). Consider also to visit IAMCR website: http://iamcr.org/