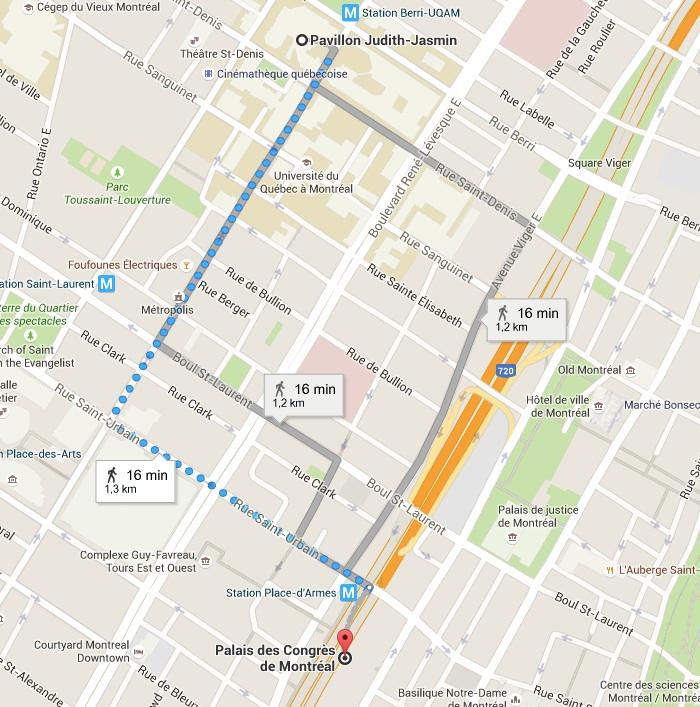 With less that a week to go until the start of IAMCR 2015 on 12 July, this newsletter includes information to help you on arrival and while registering, as well as a few tips about things to look forward to and information about web-streaming and use of social media during the conference.
If you have any questions, please contact iamcr2015@uqam.ca.
Arriving in Montreal
By air
Downtown Montréal is around 30 minutes from the Pierre-Elliott Trudeau International Airport. You can get from the airport by public transportation or taxi.
Taxi airport/downtown
A taxi service is also available at the airport exit. There are located to your right at the exit of the international arrival area. A trip to the city center costs about CAD $40, not including tip (taxi drivers normally get a tip of 15%).
747 bus line service airport/downtown
We suggest that you use the 747 bus line service which provides a quick connection between the airport and downtown Montréal.
The 747 bus line service runs 24 hours a day, 7 days a week, at a cost of CAD $10. This fare offers a pass for unlimited travel throughout Société de transport de Montréal bus and métro (subway) networks during 24 consecutive hours. You can buy tickets from vending machines located to your right at the exit of the international arrival area. The CAD $10 fare can also be paid in cash with exact change on board the bus (only Canadian coins are accepted - no bills).
More information on the route, schedules, and hotels nearby is available in the 747 shuttle planibus.
Here are the 747 line bus stops near the hotels suggested by the conference:
Bus stop 8 : Aux résidences de l'UQAM Ouest, Hôtel 10
Bus stop 10 : Hôtel St-Denis, Hôtel les suites Labelle, Hôtel Le Roberval, Hôtel Lord Berri, Hôtel Gouverneur Place Dupuis
Bus stop 11 : Auberge Le Pomerol, Hôtel de l'Institut, Auberge du Carré Saint-Louis
By train
If you are coming from a VIA Rail or Amtrak train, you will arrive at the Montréal train station located in the city center at 895 de la Gauchetière Ouest, Bonaventure or McGill métro station).
By bus
Many American and Canadian operators come to Montréal. You will arrive at the Montréal Bus Central Station located in the city center only a few blocks from UQAM (1717 rue Berri, Berri-UQAM métro station).
By car
Montréal is accessible by car via many roads and expressways. During the rush hour, the inner city streets are quite congested. Parking spaces close to the university are limited and payment is required. Further details are available on the Stationnement de Montréal website. Near the Conference venue, UQAM has two indoor paid parking locations:
Christin parking
335, rue Christin
Accessibility: via Saint-Denis (to the South from Sainte-Catherine), then Christin (to the West)
Sanguinet parking
1435, rue Sanguinet
Accessibility: via Maisonneuve (to the West), then Sanguinet (to the South)
Registration
On Sunday July 12, registration will take place at the Palais des congrès (Montreal Convention Center) only. From Monday, July 13 to Thursday, July 16, registartion will be located on the UQAM campus. Please see the details below.
The opening session will be at the Palais des Congrès on Sunday July 12. All other plenary, special and parallel sessions will take place at the UQAM campus from 13-16 July.
Sunday, July 12, 14:00-17:00: Registration desks will be located at the Palais des Congrès (301 Saint-Antoine Ouest, Place D'Armes métro subway station). The Welcome Event will follow at 17:30 at the same location. Entertainment will be available on-site during registration. The Palais des Congrès is a 15 minute walk from the UQAM campus. You can also get there by métro (subway) – Place d'Armes station – or taxi. Make sure to arrive early to have time to complete your registration and don't forget to bring a valid ID. If you registered as a student, please bring your student card as a proof.
Monday, July 13 to Thursday, July 16, 8:00-12:00: Registration will take place at the entrance of the Auditorium Marie-Gérin-Lajoie located on the UQAM campus (Judith-Jasmin Pavilion, 405 Sainte-Catherine East St.)
Endowment funds and all that jazz means a lot to us
IAMCR will officially launch its new endowment fund at the Montreal conference. Begun with a modest €135,000, invested with ecological and ethical considerations in mind, the fund is a step towards ensuring IAMCR's continuing viability and sustainability. You can't launch an endowment without a party, and ours will be launched on Wednesday July 15 at 18:00 when Cees Hamelink and the Burgundian Combo perform the James Halloran memorial jazz lecture. Burgundian Combo CDs will be on sale with 50% of sales going towards the IAMCR endowment fund. When the lecture is over, the night, featuring music and breath-taking multimedia presentations, will have only begun.
#IAMCR2015 - Social media @ Montreal
#IAMCR2015 is the hashtag and @IAMCR2015 the user to follow on both Twitter and Instagram. And of course you can also join us on Facebook at https://www.facebook.com/IAMCR2015 as well as our regular hangouts on Facebook https://www.facebook.com/iamcr.org and Twitter @IAMCRtweets #IAMCR.
Streaming IAMCR2015
The plenary sessions will be streamed on the internet at: http://congresiamcr.uqam.ca/component/content/article/2-non-categorise/68-webcas.html. Use the username webcast and password webcastiamcr.
Food at IAMCR
A few tips for eating or meeting outside the UQAM conference venue. The following nearby restaurants offer discounts and specials to IAMCR participants.
20% DISCOUNT

Menthe & Couscous
361 Émery Street
P: 514 842-3717
15% DISCOUNT
Accords - Le Bistro
22 Sainte-Catherine Street East
P: 514 508-2122 ext 222**To receive the discount please reserve by phone or email: judith.ruel@accords.ca
GURU- Bistro indien
3464 Saint-Denis Street
P: 514 844-9777 **Only on regular menu
Pèlerin Magellan
330 Ontario Street East
P: 514 845-0909
Pub Saint-André
902 Sainte-Catherine Street East
P: 514 509-0909
Soupesoup
1228 Saint-Denis Street
P: 514 544-5004
Sushi Shop Campus
355 Sainte-Catherine Street East
P: 514 298-0966
Thaï Express
1581 Saint-Denis Street
P: 514 903-6662
10% DISCOUNT
Mâche!
1655 Saint-Denis Street
P: 514 439-5535
Resto Végo
1720 Saint-Denis Street
P: 514 845-2627
OTHER OFFERS
3 Brasseurs
1658 Saint-Denis Street
P: 514 845-1660 **1 flammekueche + 1/2 pint of beer = 15 CAD$, available between 11:30-15:00
Il Panino café méditerranéo
271 Sainte-Catherine Street East
P: 514 845-3033?** 2 for 1 coffee + free cookie with the purchase of a panini combo
We look forward to welcoming you in Montreal.
Bruce Girard, Executive Director, IAMCR
Yanick Farmer and Christian Agbobli, Co-chairs, IAMCR 2015 Local Organising Committee
This is the fifth newsletter from IAMCR 2015. You can see the others at: