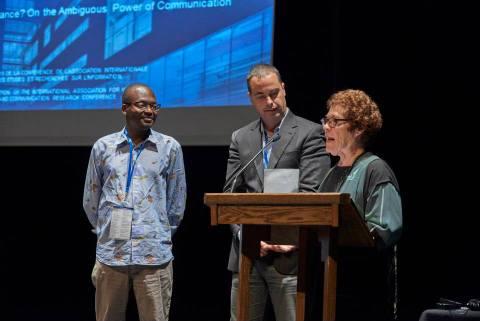 IAMCR's 2015 conference in Montreal, Canada has ended. Under the theme Hegemony or Resistance? On the Ambiguous Power of Communication, this year's conference brought together more than 1,300 scholars from all over the world engaged in research in a broad spectrum of media and communication areas including international communication, community communication, media and the environment, gender and communication, among others.
They joined in lively discussions at hundreds of parallel sessions, five plenaries, and a host of other activities that connected communities and researchers, bringing the world of academia closer to the lives of community activists, policy makers and industry professionals. In this spirit, we hope to welcome all of you again next year at IAMCR 2016 from July 27-31 in Leicester, the United Kingdom.
We hope you had productive time at IAMCR, that you are returning home full of inspiration and energy, and that your work will be enriched by ideas exchanged in Montreal. We hope that every IAMCR session you attended gave you new insights and enabled you to share your own ideas with colleagues. And we hope that you had possibilities to meet new people, and to re-connect with old friends and colleagues.
In a few days we will send you an invitation to complete a brief online evaluation of IAMCR 2015. Let us know what you liked and what disappointed you about IAMCR 2015. Your cooperation will help us make future conferences even more rewarding.
In the meantime, we would like to keep in touch with you through our newsletter, occasional letters such as this one, the announcements@iamcr.org list and our Facebook and Twitter accounts as we strive to sustain on-going contact and communication with the media and communication research community throughout the year.
Thank you for being a part of this year's IAMCR conference in Montreal. Thank you for making it a success. Thank you for your willingness to further engage with media and communication research on a multitude of methodological levels, across a variety of cultures, countries and languages, and political, technological, and social contexts that make the IAMCR the vibrant community that it is.