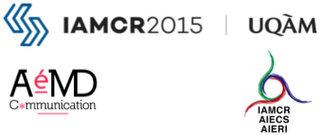 The Association des Étudiants de la Maîtrise et du Doctorat en Communication (AÉMDC) invites graduate students of universities around the world to submit proposals to the International Association for Media and Communication Research (IAMCR) Speed Networking event, which will be held during IAMCR 2015 on the 13th of July, 2015 at the Université du Québec à Montréal (UQÀM).
The event is an evening where graduate students will have an opportunity to present their research in the very short period of TWO minutes. It will be a great chance for graduate students to share their knowledge, talk about their research amongst their peers, and network with other international students and researchers in a friendly atmosphere. The event will consist of two sessions where students will present their work to the audience. A break will take place in between the two sessions to allow for networking opportunities.
IAMCR 2015's theme for this year's conference is "Hegemony or Resistance? The Ambiguous Power of Communication". The speed networking selection committee encourages presentations that explore this ambiguous relation between communication and notions of hegemony and resistance. For more information on the theme of the conference visit the following link: http://congresiamcr.uqam.ca/about/theme.html
Criteria for submission:
You may submit your communication to aemdc.uqam@gmail.com with the following information: Your name, your submission, name of the university you are associated with, current level of education, a bibliography of maximum 5 lines, and 4 key‐words related to your submission.

Submissions must contain a maximum of 100 words (excluding bibliography)

The deadline for the submissions is the 1st of May 2015 before 12am Eastern Standard Time.

All submissions are evaluated by a scientific committee consisting of professors and doctoral students at UQAM.

Thirty (30) submissions will be accepted for presentation at the event.
Language Criteria
The official languages of the IAMCR congress are English, French, and Spanish. We suggest that speakers present their subject in English. However, presentations in the other two official languages are equally accepted. The visual support for the presentations must be in English or bilingual with English being one of the two languages. This is to allow the audience who do not speak the other languages to understand the presentations.
Download a PDF with details of the event in English and French