Political Communication Research Section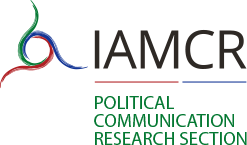 This Section aims to promote comparative research in political communication including the changes in political communication processes induced by new media and their influence at all levels. Particular attention is given to the media and political socialisation, political campaigning, public opinion and political participation, and interactions between the media and intermediary organisations such as interest groups and political parties. Studies of the uses of the media in campaigns and elections as well as in political marketing processes in government and the role the media play in local and informal forms of governance are of interest here.
Co-Chair: Julio Juárez Gámiz (Universidad Nacional Autónoma de México, México) [Contact]
Co-Chair: Marie Grusell (University of Gothenburg, Sweden) [Contact]
Vice Chair: André Haller (University of Bamberg, Germany) [Contact]
Vice Chair: Martín Echeverría (Autonomous University of Puebla, Mexico) [Contact]
Vice Chair: Sara Garcia (Universitat Ramon Llull, Spain) [Contact]
To join the Political Communication Research Section, login to your account and select My Sections and Working Groups from the menu. A number of IAMCR sections and working groups send notices and other information exclusively to their members. IAMCR members can join up to five sections or working groups.