History Section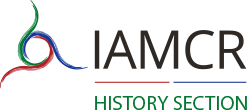 The History Section aims to encourage and support historical research on media and communication.
Chair: Nelson Costa Ribeiro [Contact]
Vice chair: Gideon Kouts [Contact]
To join the History Section, login to your account and select My Sections and Working Groups from the menu. A number of IAMCR sections and working groups send notices and other information exclusively to their members. IAMCR members can join up to three sections or working groups.
This Section emphasises media history and the historical relations between the media and politics and a variety of perspectives on the globalisation of communication since the 19th century. Members are interested in work that foregrounds the role of communication technologies and applications in social formation and historical change, including critiques of perspectives that see today's information societies as emerging out of a clear break with the past.
---