Popular Culture Working Group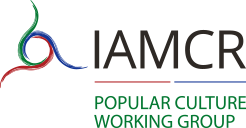 This Working Group aims to encourage studies of the relationship between media production and consumption and popular culture from a range of perspectives that are theoretically informed and empirically grounded.
Chair: Tonny Krijnen (Erasmus University Rotterdam, Netherlands) [contact]
Vice-Chair: Niall Brennan (Fairfield University, United States) [contact]
Vice-Chair: Frederik Dhaenens (Ghent University, Belgium) [contact]
To join the Popular Culture Working Group, login to your account and select My Sections and Working Groups from the menu. A number of IAMCR sections and working groups send notices and other information exclusively to their members. IAMCR members can join up to five sections or working groups.
---