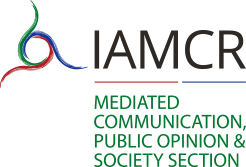 Dear members of the section Mediated Communication, Public Opinion, and Society Section (MPS), since it won't be possible for us to meet up in the usual context this year and exchange information, network, and socialize together as usual, we decided to provide you with a newsletter instead. We aim to supply you with a summary of our activities on a regular basis from now on.
IAMCR annual conference / section MPS:
For this years' special IAMCR online conference we are happy to announce that we could compose six online paper panels. More information on the details will be send out soon!
A reminder for all accepted abstracts for the online paper panel: Please keep in mind that the deadline to submit your online conference paper is June 19th!
For more information please follow this link https://iamcr.org/tampere2020/papers.
Election for section heads postponed
In light of the inability to gather face-to-face, IAMCR's sections and working groups could decide if they were to held online elections or postpone the elections to the coming year. The section Mediated Communication, Public opinion and Society has chosen – together with ca. 50% of the other sections – to postpone the elections to 2021. We will inform you about the election process timely.
For more information please follow the link: https://iamcr.org/s-wg/elections2020.
Call for Papers: Special issue M/C: "exclusion"
Our section is editing a M/C special issue on the topic "exclusion". Please submit your abstract until 15th of June.
Prospective contributors should email an abstract of 100-250 words and a brief biography to the issue editors. Abstracts should include the article title and should describe your research question, approach, and argument. Biographies should be about three sentences (maximum 75 words) and should include your institutional affiliation and research interests. Articles should be 3000 words (plus bibliography). All articles will be double-blind refereed and must adhere to MLA style (6th edition).
Article deadline: 2 Oct. 2020
Release date: 2 Dec. 2020
Editors: Susanne Eichner, Corinna Lüthje
For enquiries please contact the editors (Susanne Eichner and Corinna Lüthje) at exclusion@journal.media-culture.org.au.
More information: http://journal.media-culture.org.au/index.php/mcjournal/information/authors
Conference & Call for Papers
Our section is cooperating with the Centre for Media, Communication & Information Research (ZeMKI) / University of Bremen in organising the conference Agency in a Datafied Society: Communication between and across humans, platforms and machines. The conference takes place in Bremen, Germany, December 02 – 04, 2020.
Confirmed Keynote speakers:
Andrea Guzman (Northern Illinois University)
Nick Couldry (LSE London)
Please send a 300-word abstract, along with your name, e-mail address, academic affiliation, and a short bio to: agency@uni-bremen.de no later than September 01, 2020. Notifications of acceptance will be sent by September 15, 2020.
Further information & Call: https://www.uni-bremen.de/zemki/veranstaltungen/tagungen/agency-in-a-datafied-society-communication-between-and-across-humans-platforms-and-machines
Facebook Group & Member activities
For more exchange, information and networking, please join our Facebook Group: https://www.facebook.com/groups/2141353059262341
Please feel welcome to keep us informed about your research as well as events, calls and other related information that is of interest for our section!
If you have any suggestions or enquiries related to the section work, please get in contact with us!
Finally, we hope that you all have the opportunity to find some normality and see those who are close to you.
And we hope for an inspiring exchange online in July! Hopefully, we will learn some important lesson for the future and can contribute to make the community and the conference more accessible to everyone.
Susanne & Corinna
Susanne Eichner / Aarhus University / Media and Journalism Studies (Vice-Chair) / mail: seichner@cc.au.dk
Corinna Lüthje / University of Rostock / Institute for Media Research (Chair) / mail: corinna.luethje@uni-rostock.de