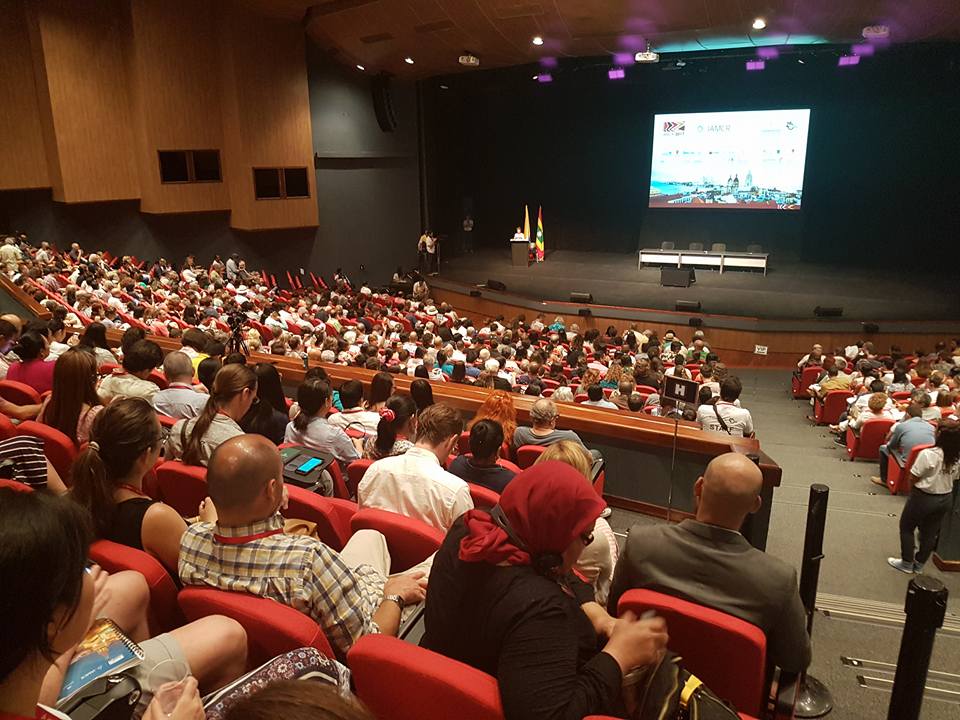 In this page we are collecting links to videos, photos, articles and other information about the 2017 conference in Cartagena, Colombia. This is a work in progress. If you have anything to add to the page, please send it to membership@iamcr.org.
You can also visit the conference website.
---
Videos
Videos of the Opening Session
After welcoming comments, Omar Rincón (Universidad de los Andes, Colombia) offered an overview of Latin American communication and media research, drawing on the 20th century Martin-Barberian map of communication and calling for new and different discourses and concepts. Also, he shared the recording of a recent interview with Jesús Martín-Barbero.
After Rincón's lively presentation, Nick Couldry (LSE, UK), Amparo Marroquin Parducci (UCA, El Salvador), Francisco Sierra (ULEPICC, Spain), and German Rey (Universidad Javeriana, Colombia) responded to Martin-Barbero's From the Media to Mediations.





Nick Couldry A. Marroquín Francisco Sierra Germán Rey Omar Rincón
The session concluded with presentations of the 2017 IAMCR awards.
Videos of the Closing Session
The 60th anniversary of the IAMCR was celebrated with music, memories, and mirth. The past was celebrated and the present critiqued by Roque Farone (from Uruguay and one of the founding members in 1957), Kaarle Nordenstreng (Finland), Cees Hamelink (The Netherlands), and Robin Mansell (UK/Canada).




Roque Farone K. Nordenstreng C Hamelink Robin Mansell
Further comments on current research traditions around the world were offered by Leah Komen (Kenya), Deqiang Ji (China), and Helena Sousa (Portugal), while Guy Berger (UNESCO) recalled UNESCO's history related to communication and media.




Leah Komen Deqiang Ji Helena Sousa Guy Berger
The 2018 IAMCR conference in Eugene, Oregon, USA, was presented by Gabriela Martinez (University of Oregon, US). The theme of the event will be "Reimagining Sustainability: Communication and Media in a Changing World," and will take place June 20-24, 2018.
The session concluded with a celebration of the 2017 conference, with thank yous from the IAMCR to the conference organizers.
Videos of UNESCO invited session
Media and Social Media: Meeting the Issues of Terrorism and Violent Extremism
This session, moderated by Guy Berger (UNESCO), included responses to several recent UNESCO publications. Divina Frau Meigs (France) discussed "Social Media & Radicalization of Youth to Violent Extremism," followed by respondents Robin Mansell (UK) and Kate Coyer (Hungary). Silvio Waisbord (USA) and Gholam Kiabani (UK) responded to the publication, "Countering Online Hate Speech," and Manisha Pathak-Shelat (India) and Abiodun Salawu (South Africa) discussed "Media and Information Literacy: Reinforcing Human Rights, Countering Radicalization and Extremism." The panel ended with Megan Knight (UK) responding to UNESCO's "Terrorism and the Media: A Handbook for Journalists."
Videos of the Special Session - International Panel on Social Progress
New Mutations and Territorialities since the MacBride Report. A Discussion of the Chapter on Media and Communication of the International Panel For Social Progress
Moderated by Clemencia Rodríguez (USA) and with Sasha Costanza-Chock (USA) and Gustavo Gómez (Uruguay) as discussants, this roundtable included presentations by Nick Couldry (UK), Claudia Magallanes (Mexico), Herman Wasserman (South Africa), Omar Rincón (Colombia) and Marwan Kraidy (USA)
Video of ALAIC (Asociación latinoamericana de investigadores de la comunicación / Latin American Association of Communication Researchers) Invited session
Research Traditions in Dialogue: Communication Studies in Latin America and Europe
Convened by Fernando Oliveira Paulino (Brazil). Panelists: Gabriel Kaplún, Universidad de la República and ALAIC, Uruguay, César Bolaño (Brazil), Nico Carpentier (Sweden/ Belgium), Miguel Vicente-Mariño (Spain) and Leonardo Custodio (Finland)
Video of ICA (International Communication Association) invited session
Academic Citizenship in Demanding Times
This invited session, organized by the International Communication Association, addressed the role of academics in a changing world and considered questions related to popular movements and the role of academia. Panelists included Peng Hwa Ang (Singapore), Barbie Zelizer (USA), Silvio Waisbord (USA), and Jairo Lugo-Ocando (UK).
Videos of Panel 2
Surveillance and Freedom of Expression: New Nationalisms?
Issues related to freedom of expression and regulatory frameworks were featured in this session, which was chaired by Gustavo Gómez (Uruguay) and included presentations by Nick Couldry (UK), Joana Varon (Brazil), and Germán Rey (Colombia).
Video of FELAFACS - (Federación Latinomericana de Facultades y Programas de Comunicación Social) Invited Session / Latin American Federation of Faculties and Programmes in Social Communication)
How to build up communication bridges between the North and the Global South?
Thursday, July 19th, 2017
Chair: Rafael González Pardo
Participants: Toby Miller, Gabriel Kaplum, Jesús Arroyave, Juan Fernando Muñoz, Daniel C. Hallin y María Immacolata Vasallo.
A Thank you! video produced by the Participatory Communication Research Section
---
Pictures
Hundreds of pictures of the conference are gathered in Flickr, grouped by day.
Click on the picture to see them all.
---
Abstracts
More than 1,400 papers and panels were confirmed for presentation at IAMCR 2017. We prepared a book with all the abstracts scheduled for presentation within each section and working group.
---
Reflections and Comments
Travel Grant recipients' comments
This year, 20 travel grants have been awarded to early-stage scholars. Some of them have sent their comments and reflections on their experience in IAMCR 2017 in Cartagena. Click on their names to read their comments.
Willemien Calitz, South Africa





Read more on IAMCR Travel Grants ...
Other reflections and comments
---
Evaluation
---
Resonance
---
Prizes and Awards
IAMCR/UCF Urban Communication Research Grant
New Directions for Climate Communication Research Fellowship
IAMCR Prize in Memory of Dallas W. Smythe
IAMCR Distinguished Contribution Award