Digital Divide Working Group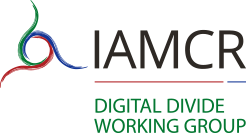 The aims of this Working Group are to contribute to theoretical understanding of inequality in access to information and media in the new digital environment; trace the development of new media through the concept of digital divide; identify gaps and inconsistencies in the digital media world, their origins and development; specify problems for media and communication systems brought about by ICT progress in local, national and global environments; promote better communication between researchers from different countries and continents; support innovative research in the field; and support young researchers.
This Working Group is concerned with issues around whether it is possible to measure the 'digital divide' and with new signs of knowledge and information inequalities and their implications. Members examine these issues in the light of the history of the interrelations between media, technology and their uses by audiences as well as the social implications of unequal access by the general public to the media.
Chair: Olga Smirnova (Faculty of Journalism, Lomonosov Moscow State University) [Contact]
Vice-Chair: Anna Gladkova (Faculty of Journalism, Lomonosov Moscow State University) [Contact]
Vice-Chair: Massimo Ragnedda (School of Media, Communication and Sociology, University of Leicester, UK) [Contact]
To join the Digital Divide Working Group, login to your account and select My Sections and Working Groups from the menu. A number of IAMCR sections and working groups send notices and other information exclusively to their members. IAMCR members can join up to three sections or working groups.
Join Working Group in social media: https://www.facebook.com/groups/795651687209460/